COMPETITIVE MAP
By Flash_19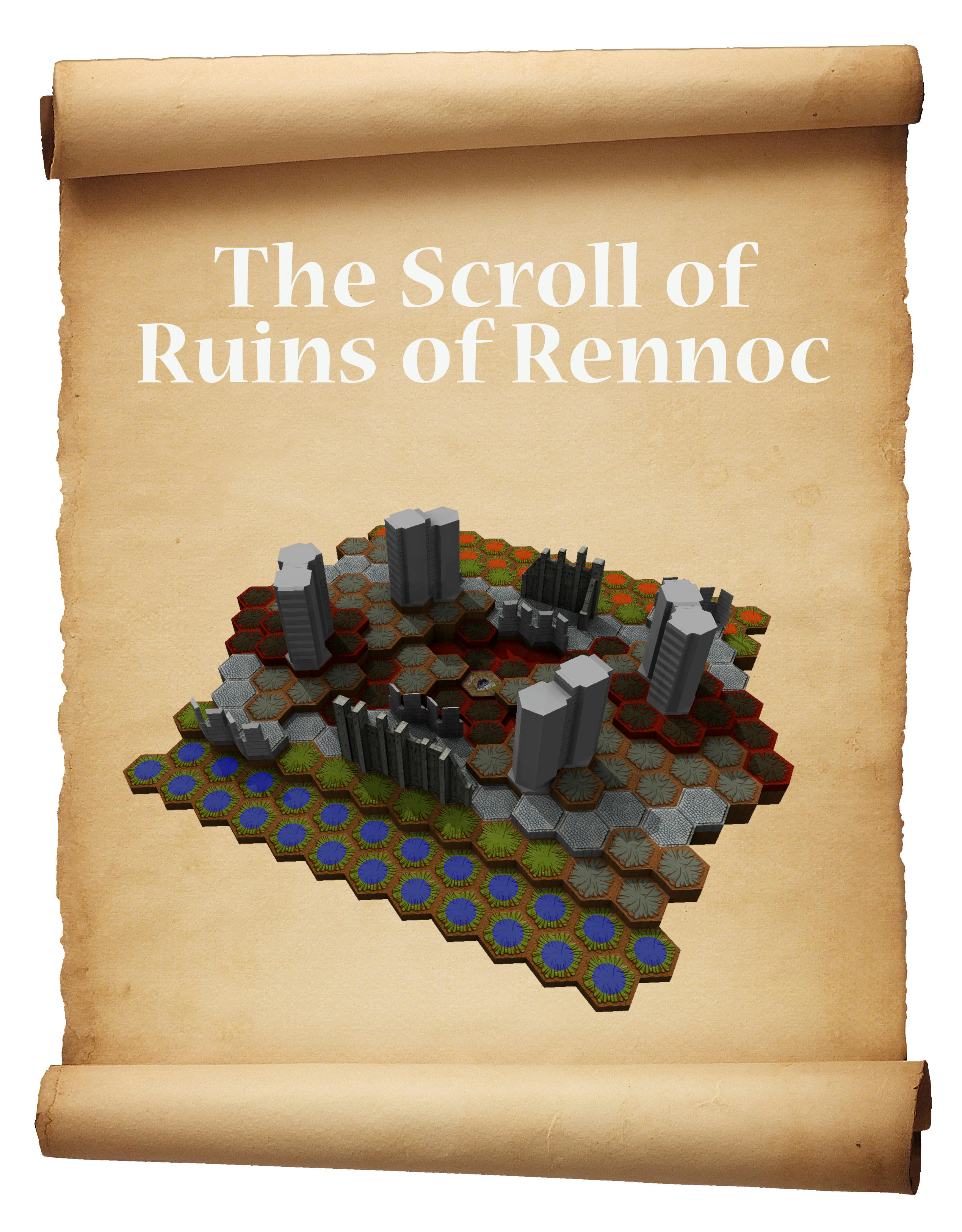 Download
, (
Online Game
)
Required sets:
RotV, VW, FotA
______________________________________________________________
Map Bio -
Sergeant Drake Alexander stood at parade rest, watching as the bubbling lava slowly consumed a section of crumbling wall. It had only been a matter of time. Hidden geysers of molten lava were finally swallowing Rennoc, which until now had been one of the few remaining outposts located in the Fields of Fire.

There was nothing he could do to save it.

He was on his way to the uncharted swamps of Ticalla, and had hoped to find some sort of relief from travel through the harsh terrain of Volcarren. With a sigh of frustration, Drake turned to the figure next to him. Raelin stood, clutching her spear with a grim expression on her face.

"See if there's anything worth taking," Drake said, "and then let's keep moving. Jandar won't be pleased to hear that Rennoc is lost."
______________________________________________________________
Reviews
-
•
Nomad
After six entertaining and highly strategic battles on Ruins of Rennoc, my vote is an unqualified
as tournament worthy, without reservation.
Simplicity of design, but with every detail seeming to be well thought out. With each battlement, ruin, castle wall, elevation change, and molten lava hex placed in just the right spot I came to believe that this map underwent hours of testing and revision before submission. If it came together in a snap for Flash_19, then I am amazed.
Don't be tempted by Gerda, unless you are Brunak, because you will get hammered or get hot feet at the end of the round. The map did not favor one type of build over another. The map is short and conflict happens quick, but there is great side to side movement with the two roads. Ruins of Rennoc will become one of my staples for tournament maps.
•
Sir Heroscape
After "Chewin' on it" I think I feel confident giving this an
vote.
The biggest things I love about this map are how quick the conflict begins and the advantages the map gives to both range and melee. Range can hop up early onto height yes, but they really only have the center as a sight point. If you're melee, there is plenty of high, flat ground to route along the edges. Melee also has a pretty quick means of attacking through the center even because of the fairly flat pathing that allows quick engagements. I also love that the defense glyph is on lava. It really makes for a good conflict and never really makes one army hold it for long. It's a tight map, and even early startzone blasts are limited due to the 2 hex startzone, so only 4 figures can ever be effected by a splash attack at most.
I like this map, it's got good pathing, strong gametime decisions to be made throughout and fast and furious fights.
to induct.
•
Biggabullfrog
While a simple build, there's something about this map that excites me as a player. It has a clean, polished appearance and looks like a map that would fit in with other tournament maps. Players are faced with important decision making as soon as they place their figures, with several different paths to take to try to control the board. Action flows well, and even the road pieces close to the start zones prove useful when a player needs to reroute their forces.
The map footprint is compact enough that each turn matters, and players are constantly reacting to each other, creating a fun, interactive flow to the game. It almost plays out like a chess match, where moves and counter moves are constantly being thought through. Better yet, no one army is at an advantage. The middle area is very open to ranged figures, but focusing there leaves plenty of blind spots for melee forces to sneak around the edges. The best high ground is lava, and the one single non-lava hex of high ground is right next to fortress walls that block its line of sight. You can camp Raelin and friends there, but it will be a bad position to control the board, and your opponent will be able to set up as much as they please.
The Glyph of Gerda is a good choice for this map. It's one of the most powerful glyphs, but is in a vulnerable position and on lava, which allows for armies to contend for it easily (if they risk going for it in the first place — the risk reward factor creates a great dynamic for the game).
Overall this is just an enjoyable map. With plenty of cover for figures to duck behind, plenty of choices and risk/reward scenarios, and dynamic interaction between players. Because of the small size, congestion can become a bit of an issue in games between two large armies, but that will be a rare occurrence in most tournament games nowadays.
I vote
to induct
Ruins of Rennoc