COMPETITIVE MAP
By Leaf_It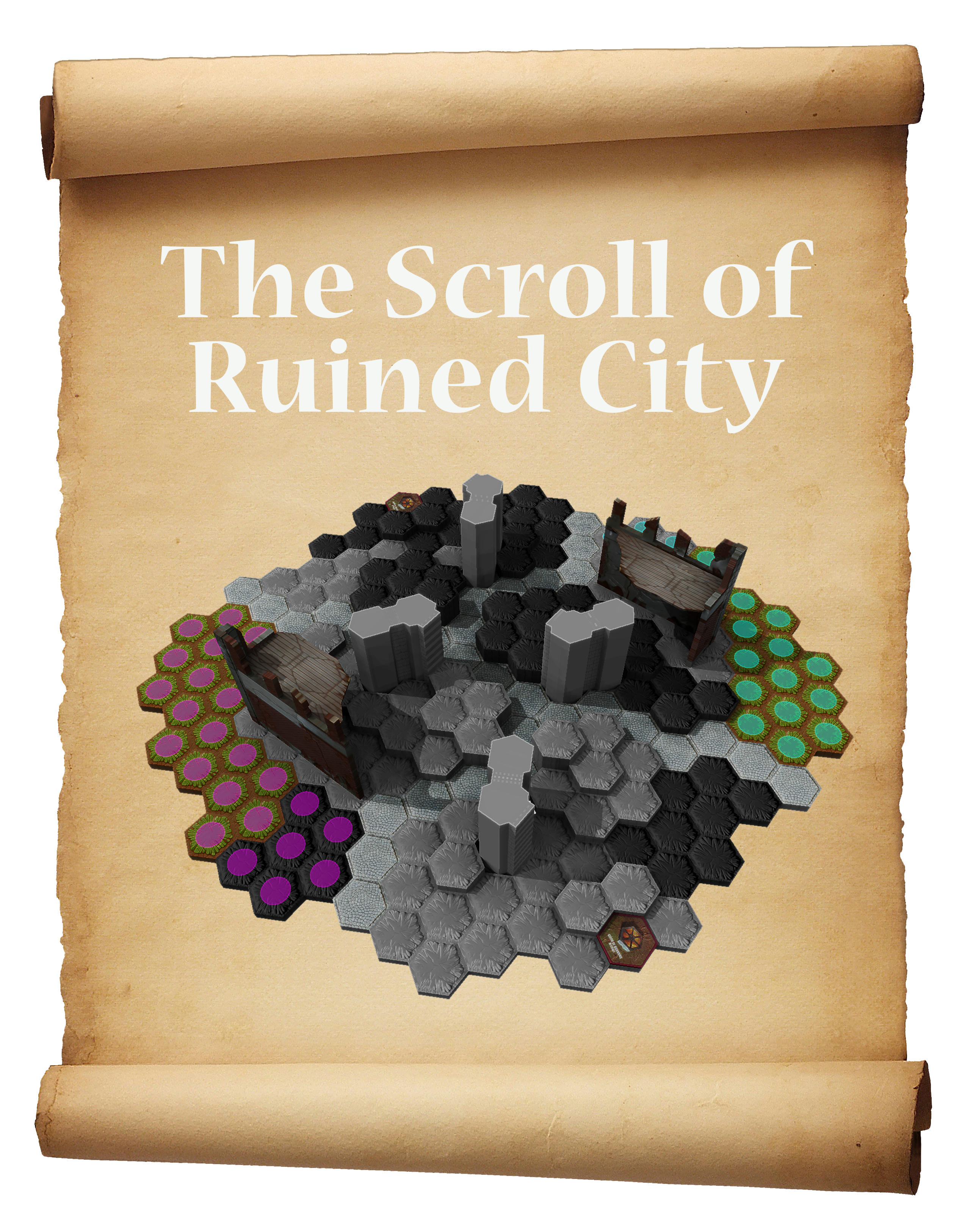 Download
, (
Online Game
)
Required sets:
2 Marvel, FotA
______________________________________________________________
Map Bio -
Tremors slowly subsided. Debris covered nearly everything in sight. A glimmer caught the eyes of the few survivors. Though tragic this now ruined city appears to have housed powerful secrets, which are now free for the taking...
______________________________________________________________
Reviews
-
•
Trex
I got to play a handful of games on Ruined City with my Brother. We both thought the map was well balanced and fun to play on. Not only is it an ingenious idea to be able to use a combination of terrain that I don't think I've seen before in a competitive map but mad the most of it. There wasn't any wasted space on this map. The battle raged on quickly in every part of it.The ruins and castle pieces are great LOS blockers to hide and advance behind for melee. There are also plenty of options and pathways to your opponent. The road tiles are very nice but not always they direction you'll want to take. Overall, Ruined City is a fun, flexible map, that is very nice to play on, and a great addition to the ARV Maps. I vote
to induct Ruined City into the ARV archives. Great work on the Changes Leaf_It
•
Biggabullfrog
Ruined City is a really compact map, which is to be expected of a map that uses only two Marvel sets (master sets barely bigger than an expansion) and a Fortress set. The road makes getting from place to place even faster (when you need to -- it's small enough that it's usually just used for engaging figures on a hill on the other side of the map) and on the whole the map makes for quick and dirty action. The map does use warehouse and fortress pieces to cut down on the power of ranged figures, and the small footprint also helps to keep them from kiting to the Forgotten Forest and back.
The main focal points on the map are the four hills in the center. Battles usually revolve around battling for control of these hills, and an army that successfully entrenches on even one of them can be difficult to remove. The map does allow players to play against that possibility with how easily armies can counterattack with the road and small size of the map, and when really needed figures can skirt the edges of the map in order to get into a better position to attack a hill. For such a small map, I always felt like there was an option for me, and smart play and use of the map's features allowed for some comebacks from unlikely situations.
All in all, Ruined City makes for quick, fun games, while still allowing for many strategic decisions despite its small size.
I vote
to induct
Ruined City
into ARV competitive map hall of fame.
•
Nomad
After three playtests on the original version of Ruined City and four on the revised Ruined City, I am not sure which version I prefer. There are some drawbacks to the map. Some areas do not see much action – right in front of the warehouse ruins and off to the sides where the treasure glyphs are located (I would probably exchange power glyphs for the treasures in tournament play, or two decent treasure glyphs such as Heroic Rune and Talisman of Defense to encourage figures to go to the sides). Nearly all the action takes place on the four hills in the center of the map. The four-height single hexes are the strongest points on the map and can be dominating, especially with a strong screen and powerful range. All that being said, the map was very entertaining for both armies. The play is fast, and the attacks are non-stop. There is plenty of screen with the castle walls to flank an opponent on a hill if needed. Hill jumping is easy if there is an open hex, drop down to the road and climb back up the adjacent hill with ease. Ruined City is the most balanced map I have come across that uses two Marvel sets. Bottom line – this map is fun. I vote
to include Ruin City as tournament worthy.