TheAverageFan's D&D customs...
---
So. Are you tired of entering the last room of a D&D crawl and finding yourself face-to-face with Charos again? Are you sick of Pelloth and his shenanigans? Are you ready to face off against a figure who really has the feel of a end of the room boss???

If you are, then TheAverageFan has several great ideas for you*!

*These ideas may seem a little extreme and are not for everyone. If Orthinuk is more than enough to keep you happy, then please stop here. TheAverageFan enjoys massive scale fights and thus his customs are also geared towards the same.

Anyways, I won't waste any more of your time.

Part I: I imagine some of you have glanced at my thread for Utgar's Quest. Well, as you may know, there is an experience system that can gain your figures new abilities and raise their stats. So, if Mimring's 3 defense is a little low, why not give him some powers, too?

One of my fellow scapers has created an "enhanced mimring" Who is 190 points but has 5 defense and lava resistance ability. Simple boosts of stats and an extra power can completely change a figure. A fight against that mimring in a small lava room could be a fight to the death! Another example of this is Nilfheim at the end of Utgar's Quest scenario, who has extra stats and Jotun's throw ability. Much better! This could save you the time of creating new figures and proxying in a simple sweep! Yes, this is indeed an easy way to make D&D customs!

Part II: Good D&D customs, in my experience, aren't just an extra squad or a hero off to the side. They either make the point of the room or at least are something your PoA will have to get past in order to win. For instance, a custom I had was a simple, 3-life common Ashigaru Yari hero who was special because he could throw his spear (and had to go pick it up after). Or a fusion of Sentenials of Jandar and Minions of Utgar and Einar imperium who guarded the last room. Advice, by the way: always post your customs stats and powers immedeately after posting the fact that they're there.

Now to the real stuff. A super powerful end-of-the-room boss. A good example of this is the "skullkraken" (named after the origional name for a Poke'mon (can you guess which?)), two Su-Bak-Nas hurredly mashed together to save space. This figure was a real boss. It had 20 life, 2 move, 4 range, 6 attack, and 3 defense. It also had a different special attack depending on how hurt it was. It could attack twice normally, spit out marrden hounds and then hide in the lava it sat in, or even spit out lava tiles onto 4 random spaces. It could take a maximum of 5 wounds in one turn. This was a real boss.

Of course, your customs won't be so crazy. But, should you be interested, I will tell you of my customs...
---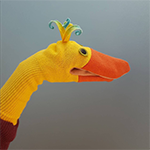 TAF
was the
Storyteller
...
in
THE ENEMY'S LAST RETREAT