Dust Tactics squads and hero packs are as low as $3 per box (up to 85% off MSRP) at Miniature Market through Monday 11/26/2018. They also have most of the "Operation" expansions (though sadly not Operation Cerberus), a few vehicles, and a bunch of the Premium prepainted figures, though not at the same deep discounting.
Note that all of the cheap ones are
unpainted
but (I think) pre-primed.
https://www.miniaturemarket.com/tabl...ice=asc&page=1
Here are some of the biggest deals on sets with figures that seem likely to be suitable to 'Scape customizing. (At the time of this posting, everything below says "20+ in stock" except the British Commandos Kill Squad.)
Figure packs (typically 5 figures, occasionally 3 or 6)
$3.00 SSU - Red Guards Command Squad (Red Command)
$3.00 SSU - Red Guards Anti-tank Squad (Red Thunder)
$3.00 SSU - Hero Pack (Nikolai/Yakov/Red Yana)
$3.00 SSU - Commissar Squad (Drakoni)
$3.00 SSU - Specialists (Nabludatyel/Jnetzi)
$3.00 SSU - Command Squad (The Medvedi)
$3.00 Allies - Recon Rangers Squad (Recon Boys)
$3.50 SSU - Red Guards Assault Squad (Red Storm)
$3.50 Allies - Assault Rangers Squad (BBQ Squad)
$4.50 Axis - Ubertoten Suicide Squad (Heilige Tod)
$5.00 Axis - Blutkreuz Pioniere Squad (Sturmaffe)
$5.00 Allies - USMC Fire Squad (Devil Dogs)
$12.00 Allies - British Commandos Kill Squad (Devil's Own/Legio Patria Nostra) ó 7 in stock
"Operation" expansions (2 or 3 figures + cardboard tiles, & sometimes a few plastic tank traps or ammo crates)
$4.00 Operation Seelowe
$5.00 Operation Icarus
$6.00 Operation Achilles
$6.00 Operation Hades
$7.00 Operation Cyclone
Following are a few unfinished brainstorms I threw together, toying with ideas for some of the SSU units. I've started with the idea that Soviet military units would go to Einar, since that seems to be the natural home of the US's "frenemies," based on the British troops ending up there. Anyway, here are thoughts on two squads that could be made from the $3 Red Guards Anti-tank Squad box: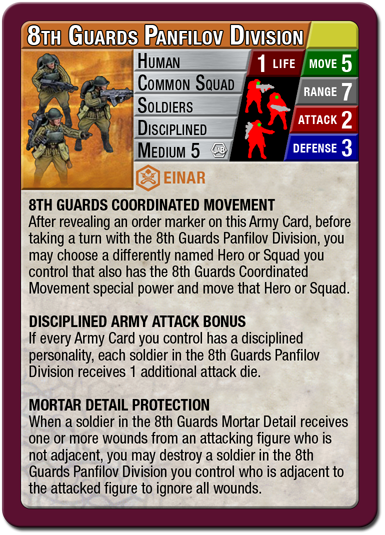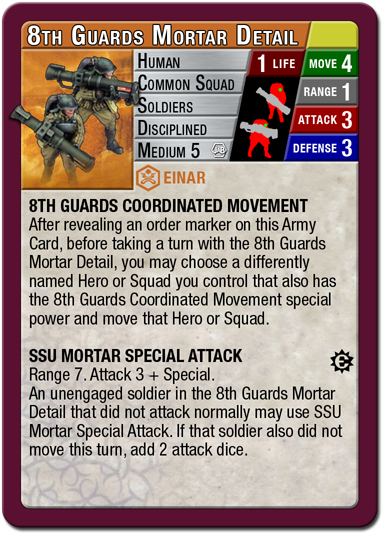 And a couple of starting ideas for the $3 SSU Hero Pack: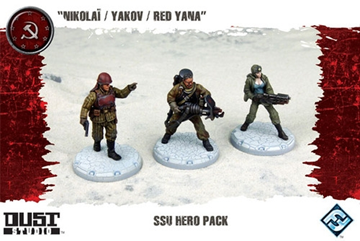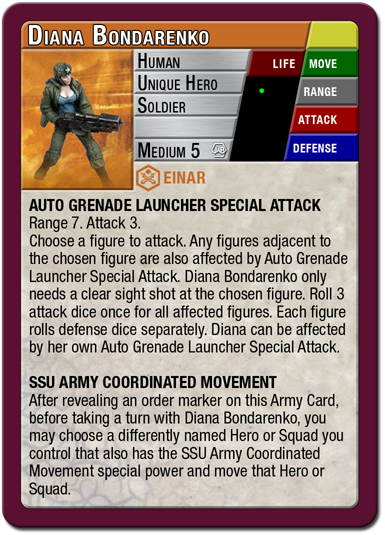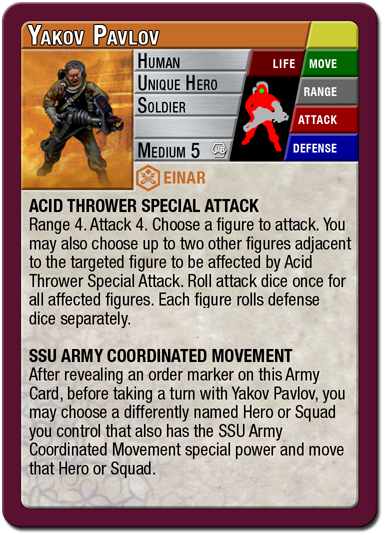 (Probably not every card in this faction should get the Coordinated Movement thing, but it's an interesting starting idea anyway.)