COMPETITIVE MAP
By antmarchingroves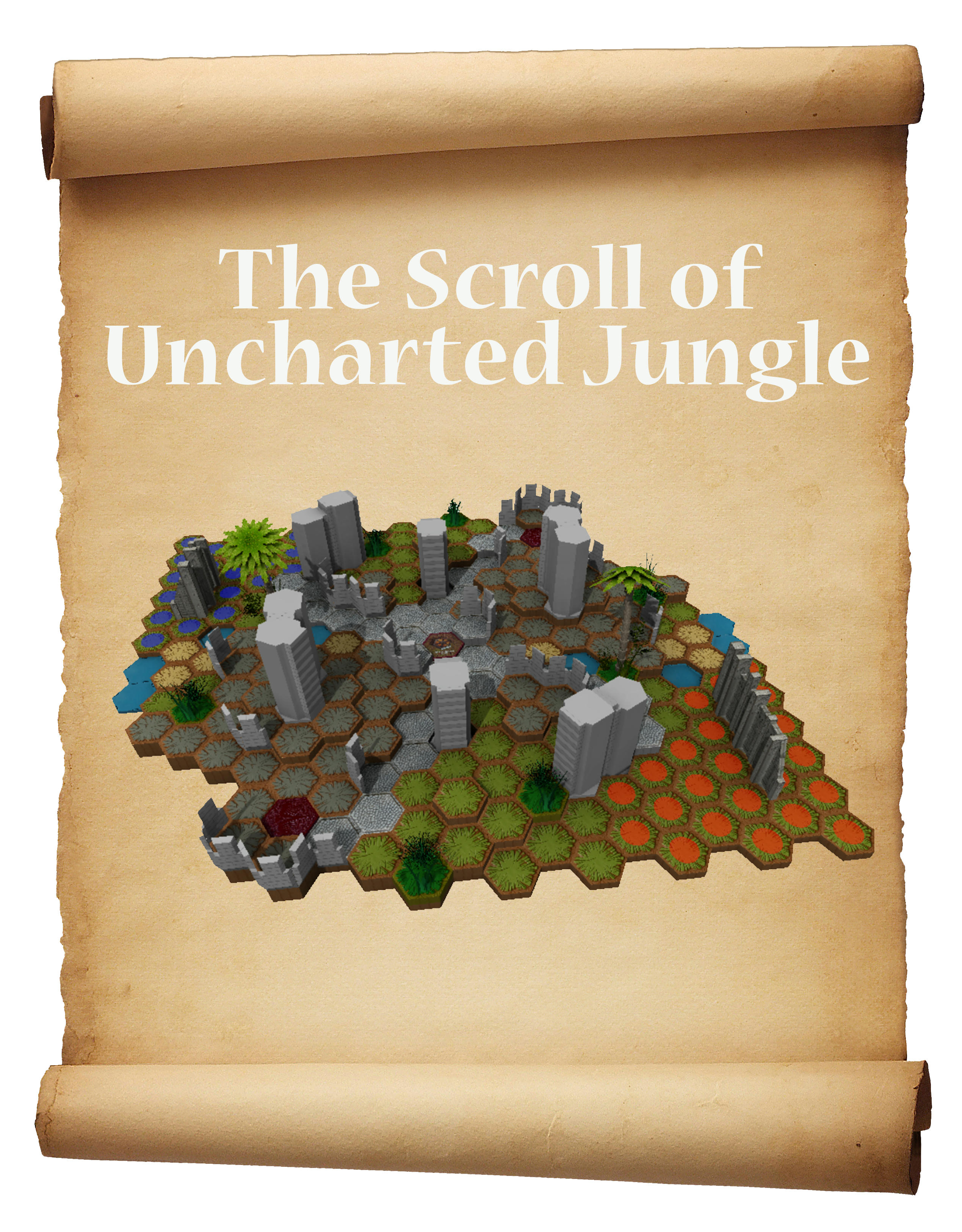 Download
, (
Online Game
)
Required sets:
RotV, FotA, TJ
______________________________________________________________
Map Bio -
Only recently was it determined that Ticalla Jungle was accessible. Utgar was the first to find a land bridge into the jungle formed by underwater volcanic eruptions north of the Valcarren Wasteland. Since that time, many others have begun exploring that uncharted jungle in search of any secrets it may hold!
______________________________________________________________
Reviews
-
•
Sir Heroscape
I also was very hopeful for this map prior to playtesting, and it did not disappoint. I'm fairly confident this had enough checks and balances in it to be a solid map for our halls. I liked the ease of development out of the startzone, albeit faster and more open to go left, and I felt like the height pockets had easy counters by having the position engaged by road. The 7-hexes to the right of the startzone could be used for podding up, but those were easily enough engaged by nearby units imo, and the castle wall on the terrain usually forces ranged units to have to peek around by getting closer to shoot. I loved that the glyphs were far enough out that the opponent had to go out of their way to control and fight for those glyphs. I will say though that a lot of conflict was involved in the center and more occasionally branched out to the sides, but i don't think it's blatant enough to downvote. I'm confident with this build and will give it a
•
Biggabullfrog
Another great-looking map using Fortress and Jungle pieces to create a map that resembles the remains of a long-lost civilization. This one features a lot of jungle skirting the edges of the map, along with columns for line of sight blocking and pockets of height scattered throughout the map. the road goes through the most central parts of the map, letting figures run straight for their opponents or towards each glyph. It looks super duper on the table and has a really solid build.
The early game on this map gives a few different options for players. Development to the left is easier, but leaves you more open to enemy attacks from height. Going straight is likewise easy, and the road can get you to your opponent's start zone in a hurry, but there is a lot of height that the road doesn't connect to, so melee armies will still need to be careful of those height pockets so they don't get killed on their way in. Going right has the narrowest pathing, but it does lead to some strong high ground where ranged figures can sit and shoot enemy figures. The columns on this piece of ground does mean that you need to expose your figures a bit for the best shooting lanes, but on the protected side you have ample opportunity to prepare figures defensively, then make those aggressive plays when needed.
Unfortunately, that high spot is one of the places that the road does not lead, meaning that in order to engage figures there players need to take a slower approach, hiding behind columns and using jungle cover. And that's not just the case for that one high spot. The several pockets of height across the map give ranged figures plenty of opportunity to run and gun from height, and one of the biggest worries that an attacking force has is the lack of cover in the middle. While the road helps, it doesn't get everywhere, and there are plenty of places for ranged figures to run and shoot while keeping out of melee threat range. And since there is no cover in the middle, it's usually a death trap if figures try to take that route. Thus, most of my games consisted of slow, campy strategies, with figures inching their way towards each other.
I don't think the map is terribly broken, in all honesty, as the jungle does give melee a chance. But the gameplay is so slow and defense-oriented by necessity on this map (since aggressive play always failed) that I don't think it fits into a competitive tournament pool. It doesn't give the varied and dynamic gameplay that tournament maps should encourage, instead just promoting games of patience.
I vote
to induct Uncharted Jungle.
•
Nomad
We scrimmaged on Uncharted Jungle four times with tournament-quality armies. I was impressed with this map during initial scoring and remain so after gaming on it. The map has varied options for game-play right out of the start zone. Go right to get some height on the terrain surrounding the two castle walls, but play is slightly slower that direction. Go left to prevent your opponent from gaining that same high ground on the other side of the map while benefiting from the double castle wall sight-blockers. Charge the road down the middle to hit your opponent quickly before your opponent can develop ranged squads too quickly. In our battles, we saw an impressive variety of tactics utilized and surprising outcomes based on the choices made. Strategic positioning and foreseeing how to best position yourself for future rounds is a must. This map does favor skilled, experienced players. There are no significant bottlenecks and the map does not seem to overly favor one type of army build over another. Uncharted Jungle is visually impressive and will be a welcome addition to my staple of go-to tournament maps. I vote an unqualified
for Uncharted Jungle.
•
Flash_19
My first thought when I saw this map was, "Wow, this map is beautiful."
The aesthetic appeal of the map isn't the only positive for this map. The varied paths out of the start zone along with the layout of the map demand a deeper level of strategy than many maps require. Taking the narrow path to the right creates an opportunity to set up a strong position on the 7-hex rock pieces. Going left provides valuable jungle cover and an opportunity to contest the opponent's 7-hex hill. Lastly, a player can cruise down the center towards the opponent's start zone.
The 7-hex hills are definitely the strongest positions on the board for a number of reasons. Probably the most significant is that the road doesn't run adjacent to it. However there are other factors such as the dip in the road serving to slow down approaching forces, along with limited cover in the middle that help make this position solid. This spot was a big concern for me going into play testing, but as I tried to abuse it, I found that it didn't seem to be quite as strong as I initially thought. Paths to that part of the map are appropriately more limited, but the most significant factor in balancing the hill are the wall pieces that serve to split the hill into 2 sides. The positioning of those walls were enough to swing the strength of that position from being map breaking to acceptable in my opinion.
Having said that, this map does seem to increase the gap between players with different levels of experience. Because of lack of cover in the middle of the map, the map isn't as forgiving of mistakes in placement, and assaults on the opponent's hill require careful planning and execution. Melee armies will often want to focus first on developing to the left at the start of the game as a preventative measure when playing against ranged armies that might attempt to take a solid position on the 7-hex hill.
This was a close one, but I vote
to induct Uncharted Jungle into the ARV.