Heroscape Tournament: Monsters & Magic!
This whole post is a work in progress...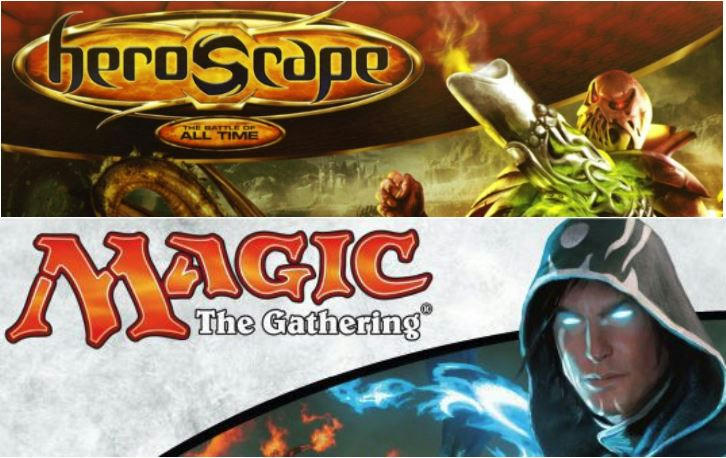 Mixing the sibling games together! As always, anybody is welcome to play with us, we are a relaxed bunch, always willing to help newcomers learn!
Format:
-Pre-built 350 point armies, 12 figure limit, destroy the opponent!
200 points of your army must consist of units that fit at least one of these two categories:
*Large/Huge size
*From Arena of the Planeswalkers
-Figures allowed: Official Heroscape (except Marvel) and official Arena of the Planeswalkers units. See spoiler for banned figures and other rules.
-40 minute battles, 3 battles, Swiss(-ish) system, additional details in spoiler:
(I will likely bring 4-8 loaner armies. Those builds to be listed here at some point!)
Additional rules & clarifications:
1.
AotP spell cards and creature summoning will NOT be used. Everything is going to be tweaked to follow Heroscape rules more closely.
2.
AotP
unit abilities
that reference spells/sorceries, deck/drawing/discarding, and summoning/unsummoning will
not be allowed to activate
in play.
The units are not banned, though.
3.
The following pairs of terms are allowed to be used interchangeably (for abilities, glyphs, etc.) since they are functionally the same for AotP/Heroscape:
-Power/Attack
-Toughness/Defense
-Crossed Weapon/Skull
-"Crown" symbol on AotP squads and heroes/Unique squads and heroes
4.
Planeswalkers are considered to be
Planeswalkers and Unique Heroes
, but they are not creatures. All Heroscape figures are
considered creatures alongside their usual classifications
(common, unique, hero, etc.)
5.
Heroscape and AotP abilities
can "cross-activate" onto any eligible figures if the conditions for those abilities are met
.
*In general
, we are taking the rules and cards as literally as possible.
Where:
Casual Dragon Games, located at 136 Walnut St, Lockport, NY 14094
When:
TBD. Looking to be a Saturday/Sunday afternoon/evening in late June.
How much?
TBD, likely $2 per player. All collected money will be used as prizes - store credit/gift cards. Tournament winner gets 60% of pool, second place gets 40%.
Maps/Glyphs:
TBD. Planning to use maps that mix AotP terrain with Heroscape terrain. Each map is likely to feature 1-2 standard tournament power glyphs (Gerda, Wannok, Dagmar, Valda, etc.) Strongly considering putting the AotP turn-by-turn heal glyph on a map.
Attending:
-
Maybe:
-
Feel free to PM me or post in this thread with any questions or comments! I can also be contacted at
BuffaloHeroscape@gmail.com
. I also plan on taking pictures of games in progress as I get a chance, and I will definitely post battle report on Heroscapers, and likely on FB as well.
@
Sir Dendrik
@
Taeblewalker