COMPETITIVE MAP
By Sir Heroscape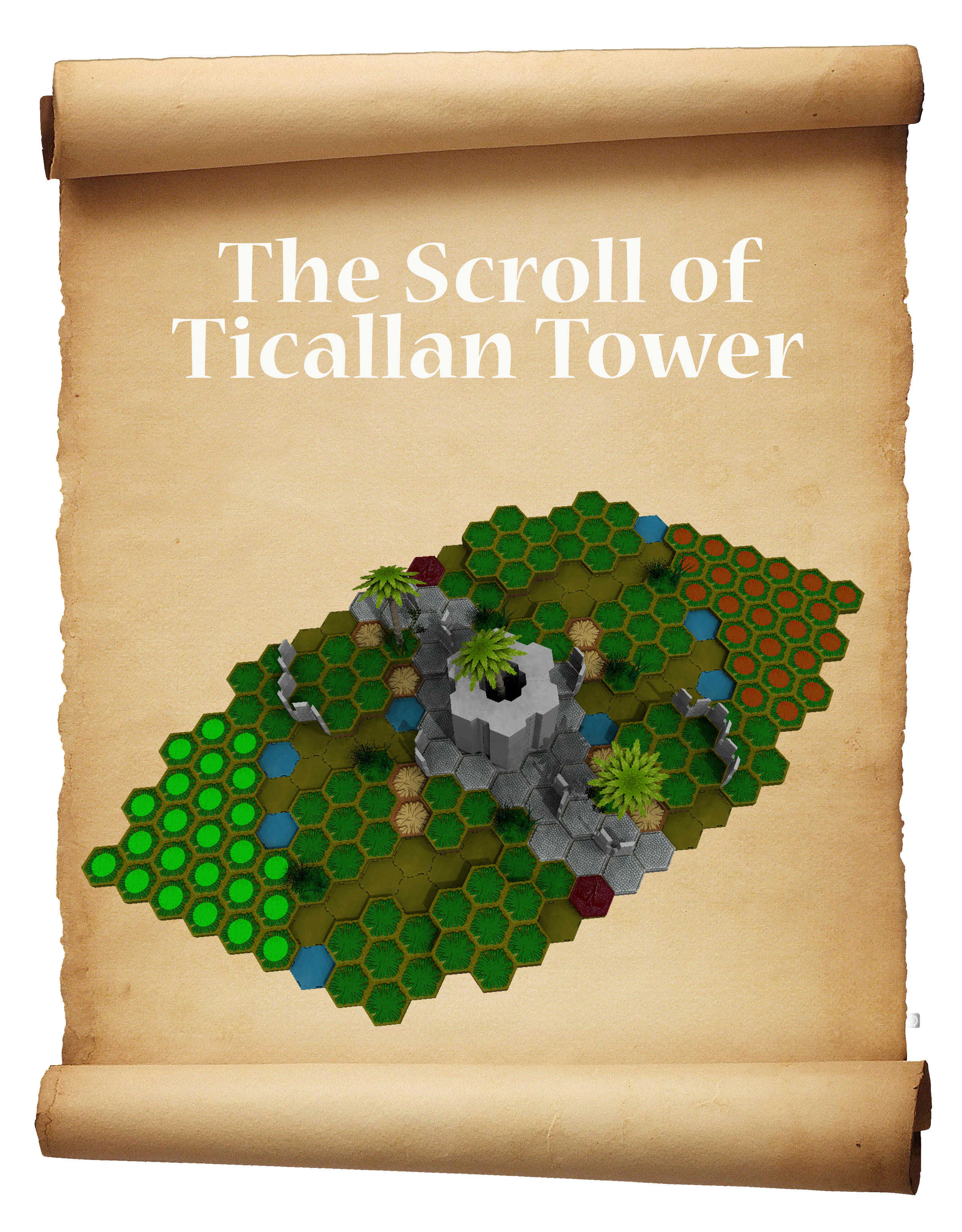 Download
, (
Online Game
)
Required sets:
SotM, TJ, FotA
______________________________________________________________
Map Bio -
Nestled deep in the jungle forests of Ticalla, stands the remnant of an old Jandar outpost. Built to create a foothold for Jandar's forces, this tower was once the edge in the war that Jandar was looking for to gain control within the treacherous jungle. But as time passed and battles raged, the swamp began to take matters into it's own hands. Turning soft and uneasy, the ground along the tower floor began to crack and shift due to the weakening of the foundation. With the swamp subverting the towers base, the integrity of the structure was compromised and Jandar was forced to withdraw. Though forgotten, this overgrown, barren tower still hosts many great battles of Valhalla.
______________________________________________________________
Reviews
-
•
Biggabullfrog
On the whole, Ticallan Tower is a solid map. It makes good use of the SotM and FotA sets to make a good sized map, and while the pathing/flow of it can feel a little awkward at times (especially when getting out of the start zone), it doesn't get congested. Plus it has impressive aesthetics and implements Jungle pieces as well as the central tower well. It is a little long and I wish it was just one or two hexes shorter to let armies get to each other more easily, but that's a minor nitpick.
The balance of the map itself is good. It seems a little better to try to develop units to the right because the pathing is more open, but if you invest to the left you can get some really strong holds as well. I was concerned about the Glyphs. The positioning is good to spread out the action, but because they're so vulnerable they need to be on the stronger side or units won't go for them. This is especially true in Melee v Range setups. Personally I preferred a pool of Move, Initiative, and Defense glyphs were best - when I tested with other glyphs common in tournament use, they just weren't good enough to warrant attention.
This map has a lot going for it as far as excitement goes. It looks exciting and gets players wanting to play on it. In game there are a few points that can get frustrating, such as Raelin being able to shut down a whole half of the map, but on the whole that's unavoidable, and clever play can mitigate those frustration points.
The gameplay here is solid, too. While it can seem that powerhouse armies like Rats Raelin Range, 4th, and 'Trons can dominate on this map, opposing armies can use the tower to their advantage to get close and flank the opponent, focusing more on strategy than just chucking dice. I can nitpick that the gameplay isn't the most dynamic I've seen, and it's limited somewhat by its low height variance, but it is solid and capitalizes on strategy, which is good.
Overall a solid map with solid gameplay pushing solid strategy, I vote
to induct Ticallan Tower.
•
Nomad
We got in a total of four play tests on Ticallan Tower with units ranging from M-43s and Mariedians, Shades of Bleakwoode, MacDirks and bonders, Heavy Gruts and Bonders, a dragon and Krav. And I played a bunch of Water Elementals with Zaiken (a NWHC figure who bonds multiple WEs). The WEs love this map! I am all for maps that help Water Elementals (they still lost, but it was fun for a while).
The map is fairly flat, but with three levels of height. It can play fast side-to-side on the road. The map was fair and balanced to all eight of the armies we tested. No singular unit type seemed to have an advantage. The glyphs are well placed.
Would I set this map up at one of my tournaments and be confident that I wouldn't hear grumbling about unfairness in regards to the map for the players? Yes.
Nomad votes
•
Robber
My initial opinion of Ticallan Tower before building it was that it was a bit flat and uninteresting. However, it's grown on me a lot since I started playtesting it.
Overall, my biggest complaint is the lack of height above level 2. Given the available terrain, there's not much that could have been done about this, but I feel that even a couple tiles on level 3 would make the map more interesting. That being said, the map is definitely well designed to make up for this. There is a surprising amount of height variation due to the placement of the water and swamp water tiles. Even though there are no highly desirable places to grab height on the map, each player is still incentivised to move towards the middle due to the glyphs and some of the level two height.
I really like the dynamic created by the castle tiles that stretch across the map, and in particular, the castle tiles on level two. I've got a couple concerns with the placement of the battlements, but nothing too major. Overall, the map feels balanced and tournament worthy.
My vote is