This is SuperflyTNT's weblog, with news, fiction, stories, and helpful hints to the aspiring sociopath.
The Tower Of The Inquisitor Die Tower
Hey there,
I'm FINALLY done with this darned thing...it's not just ANY dice tower - it has a gearbox and pulley that actuates the dice trapdoor, an axe that beheads a Nikita Agent, and a working chain portcullis.
The body is made of 1/4" thick Basswood, covered in plaster for the purpose of making it look like an adobe building. The paint is a textured sand paint, and although the color isn't what I envisioned, it's pretty decent in person. The knob on the front sits on an acrylic rod that turns a keyed internal gear sprocket that is attached to a pulley which actuates the portcullis, and the rod itself rotates the trapdoor to release the dice into the catchbasin area. The gear also actuates an acrylic piston that raises and lowers the axe to 'chop' the agent's head off. The thought there is that if I sacrifice the chick every time I need some skulls I might get one!
Front view, from above the basin:
Above view - note that on the right the felted area is the dice area where you drop them in.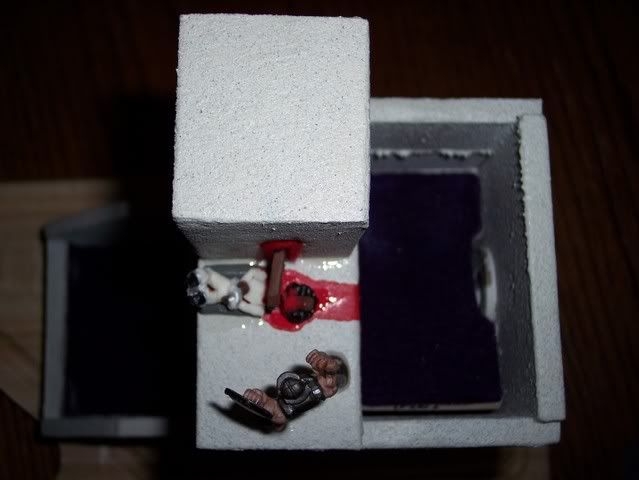 The Axe in the ready position...
And the Nikita having a bad day....
It's hard to tell, but the portcullis raises enough to allow the dice to pass by.
And finally, the trapdoor opened so the dice can fall...
Here's a video showing it in action:
http://i84.photobucket.com/player.sw...esbirth039.flv
I know...you're asking yourself WHY??? I'll tell you - I am sick of getting the dice to fall out of my other dice tower after a roll, and when the icon I want comes up and I have to re-roll it pisses me off considerably. I initially wanted a way to control the velocity of the dice as they fell to the basin, hence the stage and trapdoor. This also helps me make sure that I am sure that the amount of dice I want to roll are being rolled (ie. forgetting a bonus and whatnot) and making sure that they are the correct type of dice.
As this is a prototype, I made a small error and the stage is not wide enough to support a D20, so you have to drop it through the opposite side when the trapdoor is open, but you can roll 12 or more standard HS dice without a jam using the trapdoor as designed.
Hope you enjoy looking at it as much as I enjoyed making it!
Comments
Posted September 10th, 2008 at 11:44 AM by

CheddarLimbo
Posted September 10th, 2008 at 07:13 PM by

scottishlad5
Posted September 11th, 2008 at 04:34 PM by

Pickledpie
Posted September 12th, 2008 at 02:15 AM by

outforblood
Murderous Dice Tower

Posted September 14th, 2008 at 12:00 AM by

SuperflyTNT
Recent Blog Entries by SuperflyTNT