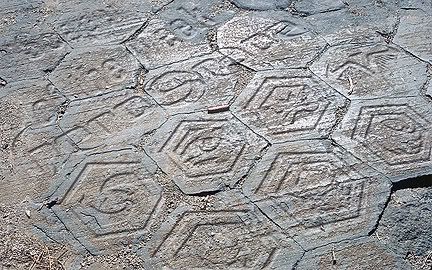 Scaper of the Week 18 - Whitestuff
Jim's time is up, but his influence still holds us captive.
What was his untruth
In his own words:
Quote:
Originally Posted by Jim
... the Lemmings Game story was the lie. People had picked it, but for all the wrong reasons!
I have absolutely nothing to do with Lemmings, other than I loved it when it was released in the mid to late 80's. I don't know if anybody's name really is included as an easter egg.
I think that came from the BGG geek of the week, only there it was two lies. I just used it here and made it better.
Jim
In addition,
Whitestuff
, the Scaper
Jim
picked for this week has picked up the 3 truths, 1 lie component to keep us guessing. Read on to discover more about this potty-poetry lovin', jack of all trades from Oz,
Whitestuff
!
Our eighteenth '
Scaper of the Week
is
Whitestuff
Age:
34
whitestuff by whitestuff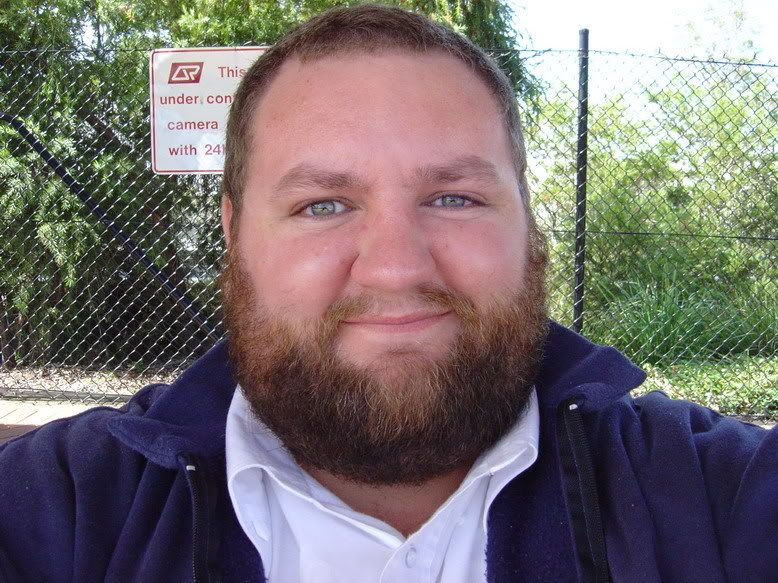 Occupation?
High School teacher. I have taught in a few small schools so I have had to teach a wide variety of subjects. In the last 5 years or so I've taught; English, Mathematics, Science, Computer Studies, Visual Arts, Music, Health and Physical Education (which is quite ironic as I am neither healthy or very physically active
), Geography, and History (both modern and ancient). I guess you could say I'm a Jack of all trades, master of none.
whitestuff junior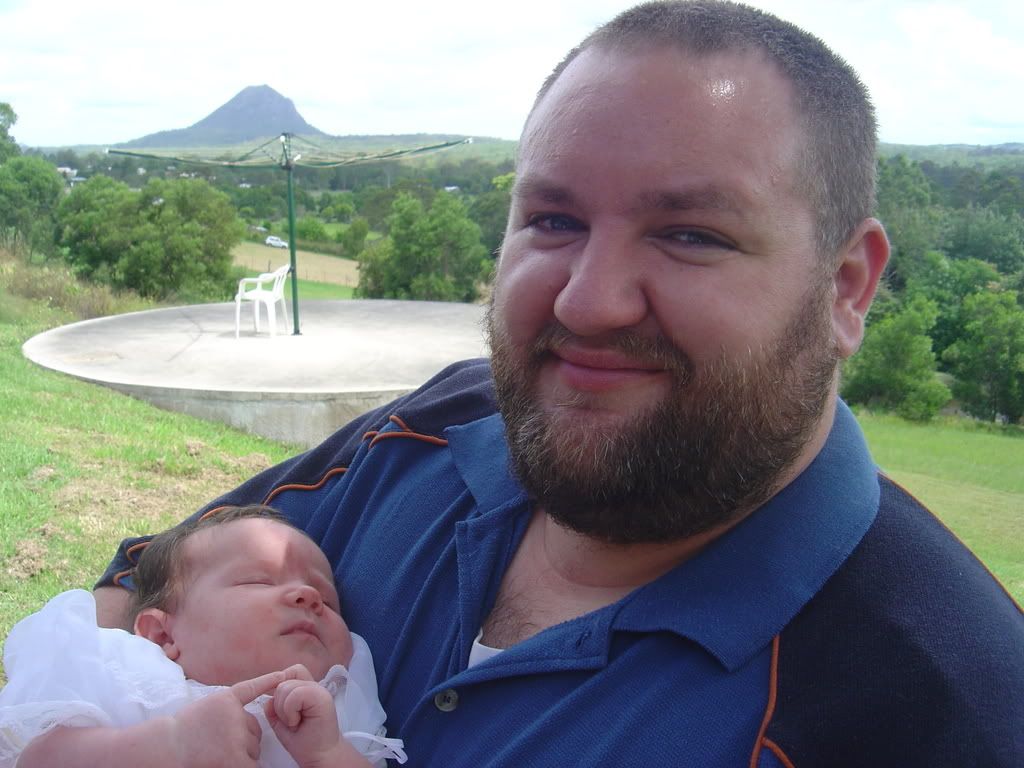 Allegiance and why?
Am I allowed to say Marvel? I know that lots of people here do not like the Marvelscape stuff (for a variety of reasons) but I really enjoy a big superhero brawl. Growing up I would imagine what a fight between the Hulk and Batman would be like. What about Superman and Judge Dredd? Using any of the hundreds of superhero customs
here
I can find out.
Excellent gaming indeed.
If I can't choose Marvel, then I go with… Utgar. They have such a wide variety to choose from.
When did you get into HeroScape and why?
You know how sometimes you go shopping with kids and they sneak something into the trolley that you don't notice until you get to the checkout? It wasn't anything like that at all. In January 2007, I was camping with my family at Bribie Island (off the coast of Queensland) when my brother-in-law broke a part of his remote control car. We went to the nearest Toyworld so that he could buy more parts. He was taking forever so I was wandering around the store. I found a box with a huge discount sticker on it. Heroscape; originally priced at $90 was marked down to $30. The cheapskate in me said that this was a bargain, too good to miss. My wife wasn't with me to stop me, so I bought it.
My beautiful wife (and me without a beard – long time age now…).
I set the game up to play that night. Everyone kept looking at all of the pieces and mocked me saying what kind of game allows robots to fight alongside dragons and dinosaurs. I ignored them and forced them to play. Despite getting the rules wrong (I originally thought that each player had use all of their order markers on their turn
) I loved the game and played it every opportunity that I got.
Favorite aspect of HeroScape and why?
It would have to be the ease of creating custom characters. I had the single RotV for a few months before the urge to find what else existed for the game and I discovered Heroscapers. I was amazed at the expansions and frustrated by my lack of ability to find them in my own country. Playing with customs was the one thing that kept me playing the game.

Favorite Hero and why?
While Wo-Sa-Ga is my favourite sculpt, I would have to say that my favourite hero to play is Nilfheim. He is tough to fit into tight places but he wreaks havoc wherever he goes.

Favorite Unique Squad and why?
Ninjas of the Northern Wind. Every time I have picked them, they have killed far more points than they cost. Ninjas are awesome.
My own unique squad…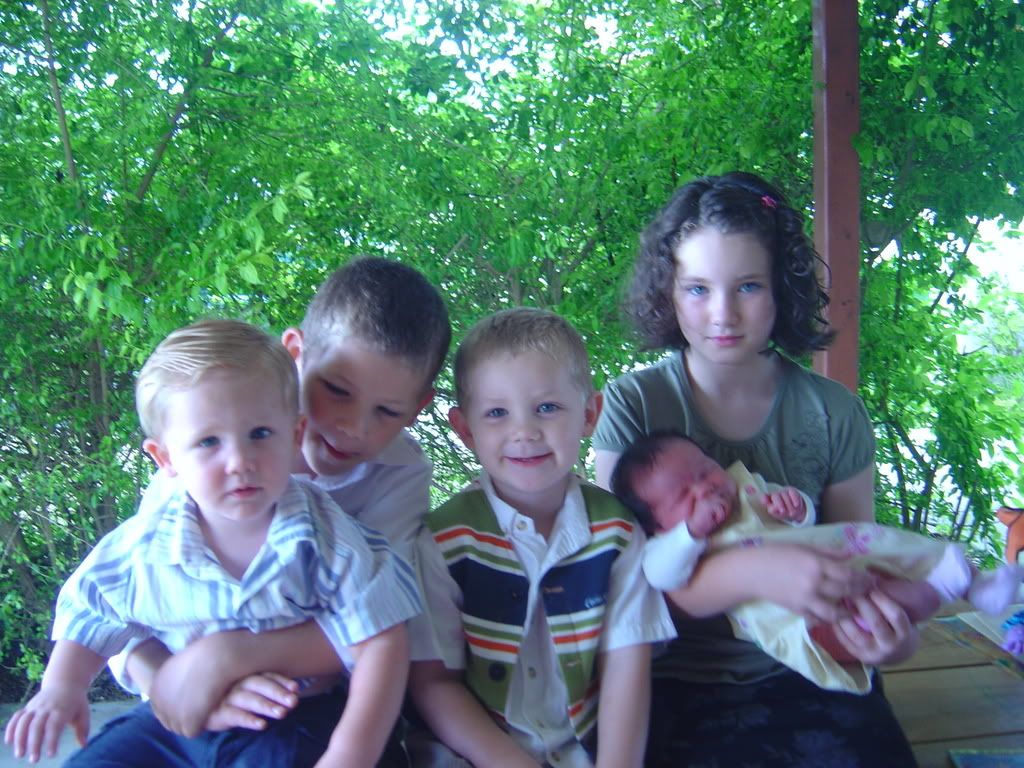 Favorite Common Squad and why?
Difficult choice to make. I love the groans that occur when I field the Deathreavers, but I'll go with the Zombies. I love a good zombie shamble.

Favorite Special ability and why?
My favourite is not a single ability, but the concept of aura bonuses. I think it forces a player to play more tactically when moving their army around.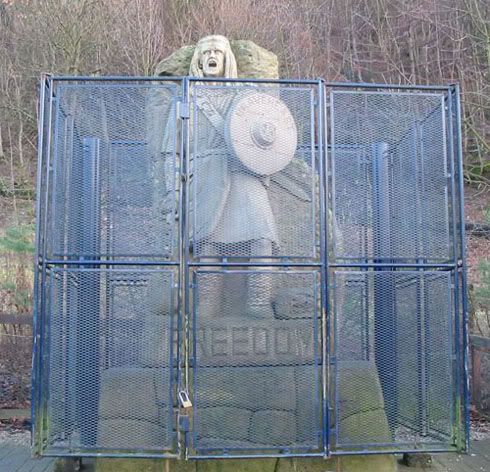 What do you enjoy most about Heroscapers.com?
It is a combination of things. The customs, the maps, the books, the answers to questions, the helpfulness of the members, the creativity, the good humour, the horror of Ace's shed, the codex, Chief's Easter Thread and most importantly, the friends that I've made (but never met).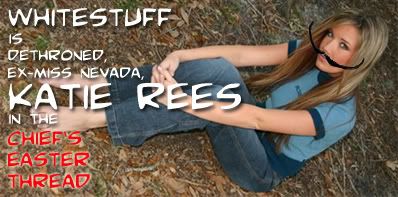 Favorite HeroScape moment:
I'm still not sure how I managed to score such a tremendous gig, but I was able to work for WotC during GenConOz demonstrating Heroscape. Four days of playing Heroscape, teaching other people what the game was all about.
My good mate Nicko in the blue getting trounced at GenConOz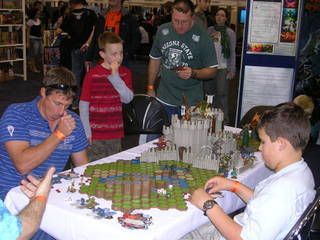 It was at an interesting time. DnD 4 had just been released and the changeover of HS had just occurred. WotC Oz where a little unsure as to what to do with Heroscape as they hadn't really played it much. They had a lot of stock in the vendors booths and I think they were watching carefully to see how well the game sold.
The best part of the whole experience was all of the people who would demo the game and then come back with it under their arm and thank me for showing them the game. Excellent indeed!
whitestuff at work – GenConOz 2008
Thanks for the photos dickflea

One HS unit you would change and why?
I would change the Gorillinators in a heartbeat. Think about it, gorillas in armor with guns and they have 2 attack and only 1 defense? Why?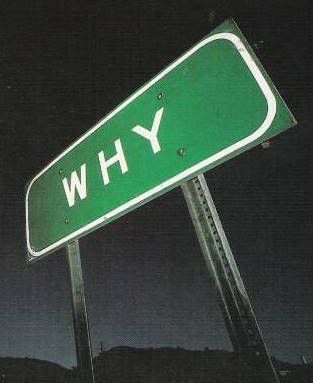 Another board game you enjoy and why?
Listening to many glowing reports about Battlestar Galactica, I asked for this for Christmas (or rather I bought this for myself and then made my family give it to me for Christmas
). I love the game but I have difficulty convincing enough people to come around to play it.
The other game that I am loving at the moment is Last Night on Earth. Every game I've played has been a hit. My wife even likes this game which is a real bonus.
Three true things and One lie about yourself:
None of which are as interesting as Jims…
1. I once met Cindy Crawford.
2. I lost a tooth in a road rage incident.
3. I played Heroscape with Darth Vader
4. I carry my coins in a kangaroo scrotum.
Other interests?
I love to play the guitar, read books, play with my kids and surf the web. While I will watch shows that interest me on DVD, I don't watch TV anymore. I play video games instead. I am currently slave to Left4Dead and still enjoy Team Fortress 2 immensely. BTW, have you ever seen the TF2/HS mod that Velenne and I have been working on? It is very nearly finished (just needs some final play-testing and the handbook needs some tightening up).
Have a look, you might find it interesting…
What message do you have for the community?
Have you ever read
Desiderata by Max Ehrmann?
My mother had a poster of this poem on the wall of the toilet when I was growing up and I've always been impressed by some of the sentiments within it. I'll share just a couple…
Go placidly amid the noise and haste,
and remember what peace there may be in silence.
As far as possible, without surrender, be on good terms with all persons.
Speak your truth quietly and clearly; and listen to others,
even to the dull and ignorant; they too have their story.
Avoid loud and aggressive persons, they are vexations to the spirit.

If you compare yourself with others, you may become vain and bitter,
for always there will be greater and lesser persons than yourself.
Enjoy your achievements as well as your plans.

Therefore be at peace with God, whatever you conceive Him to be.
And whatever your labors and aspirations,
in the noisy confusion of life, keep peace with your soul.
With all its sham, drudgery and broken dreams,
it is still a beautiful world.
Be cheerful. Strive to be happy.
Any Heroscapers member you'd really like to play against?
Yes, there are many who I'd love to play against (they know who they are) and one day I'll come over to the US just so I can beat you all!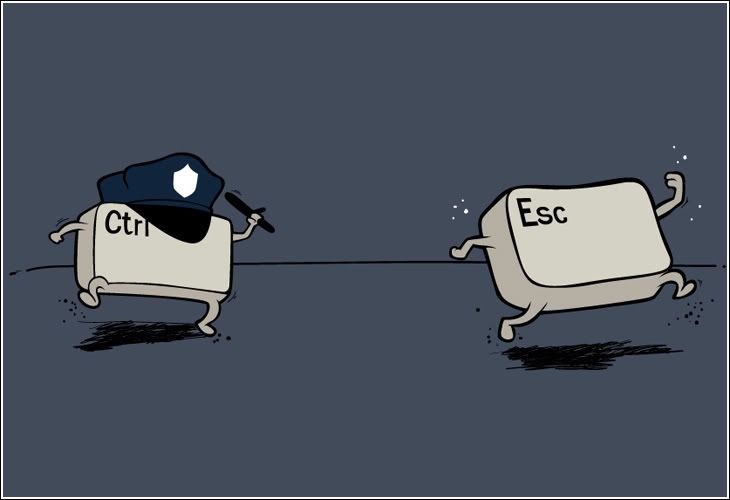 Who do you pick for the next 'Scaper of the Week?
One of the silliest things that happened while I was working at GenConOz was that I found and bought a lexan mat. Not that buying a lexan mat is silly, but falling asleep on the train on the way home and then leaving the mat behind is. When I wrote about this happening in my GenConOz write-up, the maker of these wonderful lexan mats offered to send me a free one to replace my lost one. I couldn't believe the generosity and kindness of such an offer. So the next 'Scaper of the Week will be none other than the Thoroughbred of Thoughtfulness, the Knight of Niceness, the Trainer of N00bs himself… Cavalier.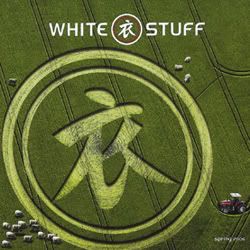 Comments
Posted January 12th, 2009 at 02:05 AM by

rym
Posted January 12th, 2009 at 08:51 AM by

nyys
Posted January 12th, 2009 at 09:59 AM by

whitestuff
Posted January 12th, 2009 at 10:27 AM by

Hex_Enduction_Hour
Posted January 12th, 2009 at 01:07 PM by

Cavalier
Posted January 12th, 2009 at 03:38 PM by

SuperflyTNT
Posted January 12th, 2009 at 04:24 PM by

Pickledpie
Posted January 12th, 2009 at 04:55 PM by

Cavalier
Posted January 12th, 2009 at 05:13 PM by

Shades fan
Posted January 12th, 2009 at 07:19 PM by

whitestuff
Posted January 13th, 2009 at 12:24 AM by

Wind Lane
Posted January 13th, 2009 at 03:42 AM by

Agent Minivann
Posted January 13th, 2009 at 08:14 AM by

Einar's puppy
Posted January 13th, 2009 at 10:40 AM by

Revdyer
Posted January 13th, 2009 at 04:37 PM by

Hex_Enduction_Hour
Recent Blog Entries by Hex_Enduction_Hour