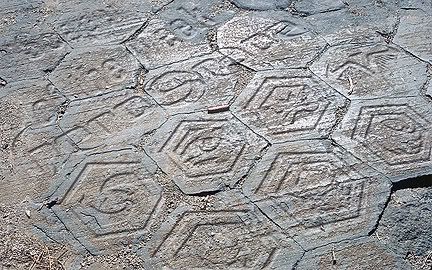 Scaper of the Week 28: Pumpkin King
Our newest Scaper of the Week is yet another upstanding young'un - He does his generation and HS community proud!
This guy is at the forefront introducing the next generation of potential gamers to one of the very best of the scene has to offer.
He teaches varied subjects to 3rd -5th grade students of a homeschool co-op. He's brought his Heroscape collection to show the fun and excitement of the battle of all time!
Here's the thread
Imagine being a young boy no older than 11 years and this teenager walks in one day with armloads of customizable terrain, painted minatures and cupfuls of battle dice.
What a blissful and imaginatively exciting opportunity to arise in a young boy's life - and it has nothing to do with a computer game or television!
Truly, he's another very worthy young Scaper for our weekly Spotlight. Read on to discover more about this excellent fellow - he's got a interesting view for keeping the world of Heroscape shaken up a bit!
Our twenty-eighth '
Scaper of the Week
is
Pumpkin King
Who are you?
Chris McFarlane
Who or what is your avatar and how did you come up with your username?
Jack Skellington, at your service, sir.
My username came from my favorite movie. No prizes for guessing what it is.
Age:
18
Occupation?
Student
Allegiance and why?
Jandar. The good guy always wins, unless the bad guy wins for a bit, but then even then the good guy comes back to kick face and take names.
Besides, Jandar has the Knights, the Airborne, a Giant Frickin' robot, and an Ice Dragon for good measure.
When did you get into HeroScape and why?
I'm probably one of the few people who saw the cheesy commercial and thought, "Holy crap. That's got to be the best thing I've ever seen." So, three years ago, I asked for Rise of the Valkyrie for my birthday and got it. I took it out, read the rulebook and the cards, looked at the cool plastic tiles...
...and put it all back in the box. I had no one to play with; by brother wasn't quite old enough at the time to play. The game sat in my closet for a year until my good friend visited from far away. I remembered that game I stashed in my closet, and we broke it out to play a game. The rest is history.
Favorite aspect of HeroScape and why?
The absolute adaptability. It's like a giant sandbox. A big, plastic sandbox that people kill each other in.
I can take a character from a
ny kind of media whatsoever
, add some stats and abilities to it...and
it'll work
. Not just mechanically, but thematically. To me, that's mind-boggling.
Favorite Hero and why?
Oh, Lordy. If I was at gunpoint and had to choose, I'd say probably Johnny "Shotgun" Sullivan. There's just so much character in that pose, and such a great sculpt. Shotgun Blast is the single most awesome ranged special attack in the game. Plus, he's got the Mustache of Power. That
has
to count for something. Close seconds are Drake 2.0 and Sir Gilbert.
Favorite Unique Squad and why?
Zettian Guards, and power rankings be darned. They're the dark horse in Heroscape, they're the underdogs. That's what I like about them.
Favorite Common Squad and why?
You know it's Zombies. I'm not prone to cackling maniacally, but I can't help but laugh when the Horde closes in.
Favorite Special ability and why?
Jandar's Dispatch. Such a great ability with dozens of applications. I will consistently roll two symbols a roll with that thing. Nothing quite like what is essentially 6-move Knights.
Anything you'd change about the game - a unit, rule, or mechanic?
Nothing mechanically, but I'd like to turn the Good Race/Bad Race thing on its head a little. Give me some benevolent pentient vampires for Jandar, some rebellious un-shackled Marro for Ullar, some honor-bound Orc renegades for Einar. A good Shade, even?
Heroscape has been good about that so far, but it could stand be shaken up a little.
Also, Steampunk. Please?
What do you enjoy most about Heroscapers.com?
The fact that you can post on any given topic and make an offhanded reference to something, and someone will quote you and play along. I've seen pages composed of 75% Princess Bride quotes. Then the next page abruptly goes back to the priginal topic. That's hilarious to me. Also, the CoNs.
Favorite HeroScape moment:
Hum de dum...it had to be the moment when I played a 1000-point Marro/undead army against an army composed primarily of Orcs.
Kee-Mo-Shi makes a suicide run towards Tornak...rolls a 20 on Mindshackle. My opponent's a great guy, he laughs and I pretend gloat, the whole shebang. On his next turn, Mimring comes over, lays two wounds on KMS. The warwitch goes again...and rolls a 20 on Mindshackle. Greatest. Feeling. Ever.
Another board game you enjoy and why?
Um...Monopoly? To tell you all the truth, I don't play any board games besides Heroscape.
How would you describe your playing style?
I play like a sledgehammer. I just go, and try and survive on the way there. Nothing fancy; that's why I like the Knights. They get the job done, and they get it done right.
Three true things and one lie about yourself:
1) I do most of my best work at one in the morning.
2) I am minorly Obsessive-Compulsive and dyslexic.
3) I couldn't come up with three truths about myself that could conceivably be lies.
4) I couldn't come up with a lie that sounded truthful, either.
Other interests?
I love to draw, read, write a little...that's about it. Nobody ever said I had an exciting lifestyle.
Seventeen Genders?
And each and every one is lookin' for love, baby.
What message do you have for the community?

Well, there's not a lot of things that haven't been said already. I'll just say that I get really depressed when I see really long discussions on things nobody is ever going to change their minds about; religion, politics, Stinger denial...all these are off-limits at the dinner table, and really shouldn't be encouraged here. That's not to say we aren't capable of having an intelligent discussion on higher subjects, it's just that it has a tendency to turn pear-shaped, more often than not.
Also, a lot of you abbreviate my username
P_K
. Save yourself some effort and type it
PK
.
Any Heroscapers member you'd really like to play against?
Anyone. No, really.
This is the best online community I have ever had the extreme pleasure to be a part of. Each and every one of you brings something to the table. I'd be deeply honored to be
completely owned
by anyone on the boards, and I mean that.
Besides, I have only one person out where I live who plays, and he's my brother. I'm desperate for a game.
Who do you pick for the next 'Scaper of the Week?
There's a man who has gone without this for quite some time, and it's up to me to put a stop to that. The monstrousities he has created dwarf even the largest thing I can make with my mortal hands.
GENTLEMEN...
I give you
Dr. Weirdscaper
.
Comments
Posted April 27th, 2009 at 02:43 AM by

S1R_ART0R1US
Posted April 27th, 2009 at 10:11 AM by

EternalThanos86
Posted April 27th, 2009 at 12:25 PM by

braveheart101
Posted April 27th, 2009 at 02:33 PM by

ABOMINATION
Posted April 27th, 2009 at 04:58 PM by

AliasQTip
Posted April 27th, 2009 at 05:37 PM by

Pickledpie
Posted April 27th, 2009 at 05:38 PM by

Heroscape Elffy
Posted April 27th, 2009 at 09:08 PM by

Deathclaw767
Posted April 27th, 2009 at 09:27 PM by

Einar's puppy
Posted April 27th, 2009 at 10:08 PM by

scottishlad5
Posted April 27th, 2009 at 10:25 PM by

TheSparkleInYourWater
Posted April 27th, 2009 at 10:40 PM by

Pumpkin_King
Posted April 27th, 2009 at 10:59 PM by

ABOMINATION
Posted April 28th, 2009 at 08:53 AM by

gorthan313
Recent Blog Entries by Hex_Enduction_Hour