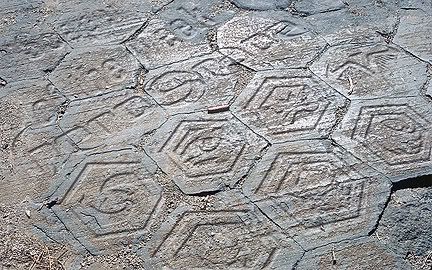 Scaper of the Week 24 - R˙chean
I'm sure we all know this new Scaper of the Week. His past involvement and dedication to the
Battlefields of Valhalla
has made him a valuable community asset. As well, his ongoing participation in the competitive scene establishes him not only as a dedicatedly essential member, but a guy who knows the game inside and out! He's clocked so much game time and experience that his word should almost be law!
Read on and learn more about a truly worthy candidate for this week's entry.
Our twenty-fourth '
Scaper of the Week
is
R˙chean
Who are you?
Mark Pruett (we can't all be named Neo Skywalker)
Who or what is your avatar and how did you come up you're your username?
My avatar is me with the Queensr˙che Tri-R˙che symbol burning into my forehead intermittently courtesy of Malachi
Age:
I just turned 40.
Occupation?
I am a Process and Project Manager for Telecom.
Allegiance and why?
Reluctantly Vydar. I love all the Agents but I don't care much for the trons and Q9.
When did you get into HeroScape and why?
I was first exposed to Heroscape in November 2004 through my nephew. I bought my son the ROTV Master set for Christmas that same year. However, I didn't actually start playing. My family (son, nephew, brother) tried to get me to play for months but I told them I couldn't because I could tell it would consume me. Finally, in the summer of 2005, my sons came to stay and I told them to bring the still in the box master set. From there I fell off the deep end and became the highly addicted and obsessive 'scaper that I still am today.
Favorite aspect of HeroScape and why?
Replay ability, it is unmatched. The ability to change the gaming board or scenario objectives make it a game that will hold its value and intrigue for a long time.
Favorite Hero and why?
I had a brief infatuation with Agent Skahen in the months after Gencon 08 but have since come back to Kaemon Awa for his overall design: He is effective, thematic with an awesome sculpt and paint.
Favorite Unique Squad and why?
I think Krav is supposed to be my answer here, but I really like all of them. There are so many good combos, I like playing all unique squads armies when I can. Their abilities can compliment each other well in certain builds. I am a sucker for unique squads and would like to see more.
Favorite Common Squad and why?
My favorite is the Gorillanators. Even though they are not that effective I still love playing them with the Nakitas. They have their uses and can shine in the right setting.
Favorite Special ability and why?
I am tempted to say Gorillantor Move Bonding, (I like them that much) but I will go with Smoke Powder. It is hit or miss of course, but when it hits, it can be worse for the opponent than losing a turn. Getting units into position to attack then suddenly not being able to, often leaves them venerable. It can make Dragons disappear, how awesome is that?
Anything you'd change about the game - a unit, rule, or mechanic?
I would take the word "normal" out of the Tough description on the Gorillanator card. (more gorilla answers)
What do you enjoy most about Heroscapers.com?
The passion for this game: despite all of our disagreements and debates, we all find this game utterly worth it. Whatever it is, whatever it takes Heroscapers always have the passion and resolve. Of all the people I have met and all the good times I have had, none of it is possible without our shared passion for this game.
Favorite HeroScape moment:
There really are too many to choose from. I guess the precious few games I have played with my sons are still my favorite.
Another board game you enjoy and why?
I like Tomb a great deal for its randomness and power swings. It is easy to pick up and has familiar themes.
Three true things and one lie about yourself:
a.) I once defeated spider_poison and Craig Van Ness on the same day.
b.) My first cousin's step dad was my step brother.
c.) I've seen Watchmen 4 times.
d.) The Heroscape logo appears on my driver's license.
Other interests?
Texas Hold'em;
TOADIES! TOADIES! TOADIES! check them out!
The NFL & fantasy football. Beer!
You've played a lot of 'Scape. How many games do you estimate you've played?
That is tough; I know I have over a 120 tournament games but total games??.. that would have to be well over 500 by now.
Your preference for maps - symmetrical or asymmetrical?
I don't really have a preference. When you get right down to "let's play some Heroscape", most any map will do.
Favorite terrain
I like the Volcarren Wasteland. It impacts the game like no other terrain.
Greatest Queensryche album and song.
Their greatest album is Operation: Mindcrime. It is not my favorite though; my favorite is Rage for Order. Their greatest song is probably something like Roads to Madness or Suite Sister Mary. My favorite of theirs is Someone Else?
What message do you have for the community?
Be excellent to each other. And check your LOS!!
Any Heroscapers member you'd really like to play against?
Jexik and I have yet to play, hopefully that will happen this year.
Who do you pick for the next 'Scaper of the Week?
Grungebob
Comments
Posted March 22nd, 2009 at 11:19 AM by

ABOMINATION
Posted March 22nd, 2009 at 12:55 PM by

Cleon
Posted March 22nd, 2009 at 01:15 PM by

rym
Posted March 22nd, 2009 at 01:57 PM by

AliasQTip
Posted March 22nd, 2009 at 03:33 PM by

ABOMINATION
Posted March 22nd, 2009 at 06:13 PM by

Agent Minivann
Posted March 22nd, 2009 at 07:11 PM by

Mr Migraine
Posted March 22nd, 2009 at 08:19 PM by

R˙chean


Updated March 22nd, 2009 at 09:47 PM by

R˙chean
Posted March 22nd, 2009 at 08:29 PM by

R˙chean
Posted March 22nd, 2009 at 09:49 PM by

Jexik
Posted March 22nd, 2009 at 10:45 PM by

R˙chean
Posted March 23rd, 2009 at 03:22 AM by

Fuzzie Fuzz
Posted March 23rd, 2009 at 04:22 AM by

whitestuff
Posted March 23rd, 2009 at 11:37 AM by

R˙chean
Posted March 23rd, 2009 at 03:48 PM by

gorthan313
Recent Blog Entries by Hex_Enduction_Hour