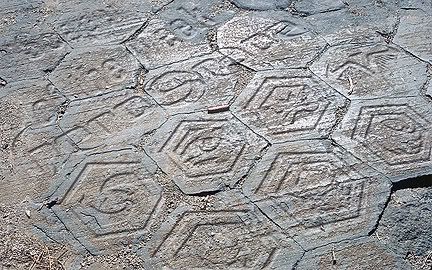 Rules of Valhalla
"Will the Gorillinators get their 'Tough' shield?"
"Can an orc disengage from a Knight of Weston without a swipe from their Coward's Reward ability?"
"If my Deadeye's engaged, can he still Sharpshoot somewhere else?"
Sound familiar? How many times has a situation like these arisen in one of your battles? The wording on a Heroscape unit card is explicit and to the point. If care is not taken in its interpretation, you may end up missing a key point or making a drastic mistake.
It's important to always look over an ability or special attack before drafting and during game play. What a certain power can do in a key situation can turn the tide in your favor or cost you a vital opportunity.
Let's take a look at the situations above and see what will come of these questions:
These Gorillanators defending against Mimring's Fire Line Special Attack will not get the automatic Tough shield as they may only use this defense ability against normal attacks. Mimring will have two kills for Utgar with his Fire Line attack.
An orc engaged with any number of knights may simply walk away from the engagement free of any leaving attacks the knight could have inflicted with their Coward's Reward ability.
And Deadeye Dan amazingly may attempt his Sharpshooter ability even though he is engaged with a lowly Arrow Grut. The Sharpshooter power is not a special attack, so even though Dan's tied up with an Arrow Grut, he may fire away at another opponent. With Dan's immense range of 10 and rolling a nineteen or twenty on his d20 roll, Mimring or Me-Burq-Sa (whoever you choose before rolling the d20) will be destroyed by the lawman sniper's deadly accuracy.
These are just a few examples of the many rules and abilities that can be misinterpreted during a battle royale with your favorite Heroscape units.
Remember to read those cards and always have fun with your battles of all time!
Look for more examples and interpretations of Heroscape unit wording in future Rules of Valhalla articles.
Comments
Posted April 13th, 2008 at 05:45 PM by

theGuru
Posted April 16th, 2008 at 12:00 AM by

hextr1p
Posted April 27th, 2008 at 03:38 PM by

Hahnarama
Posted April 27th, 2008 at 04:07 PM by

Hex_Enduction_Hour
Posted June 14th, 2008 at 03:24 AM by

whitestuff
Posted December 18th, 2008 at 06:34 PM by

gmartin
Posted January 21st, 2009 at 09:16 PM by

Simpsons Scaper
Posted November 26th, 2012 at 09:56 PM by

Rexmax2
Recent Blog Entries by Hex_Enduction_Hour