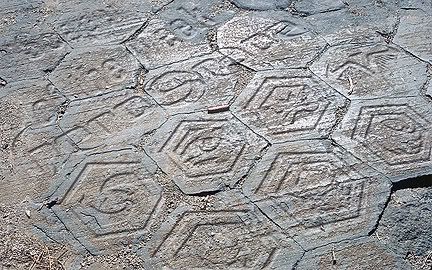 Scaper of the Week 20 - Lonewolf

If you know little of our next Scaper of the Week, this spotlight will leave you amazed. Lonewolf's custom terrain is some of the best to accompany the Ticalla Jungle release, Viper armies, and of course James Murphy. If that doesn't leave you ga-ga, gaze in wonder at his displayed Heroscape collection. Amazing and worth a small fortune!
I can relate to Lonewolf's introduction to Heroscape. It was my oldest child and son who got me hooked on Scape. Always a treat to read similar stories.
Thanks for you time and images Lonewolf and congratulations on expected child #3!
Our twentieth '
Scaper of the Week
is
Lonewolf
Age:
38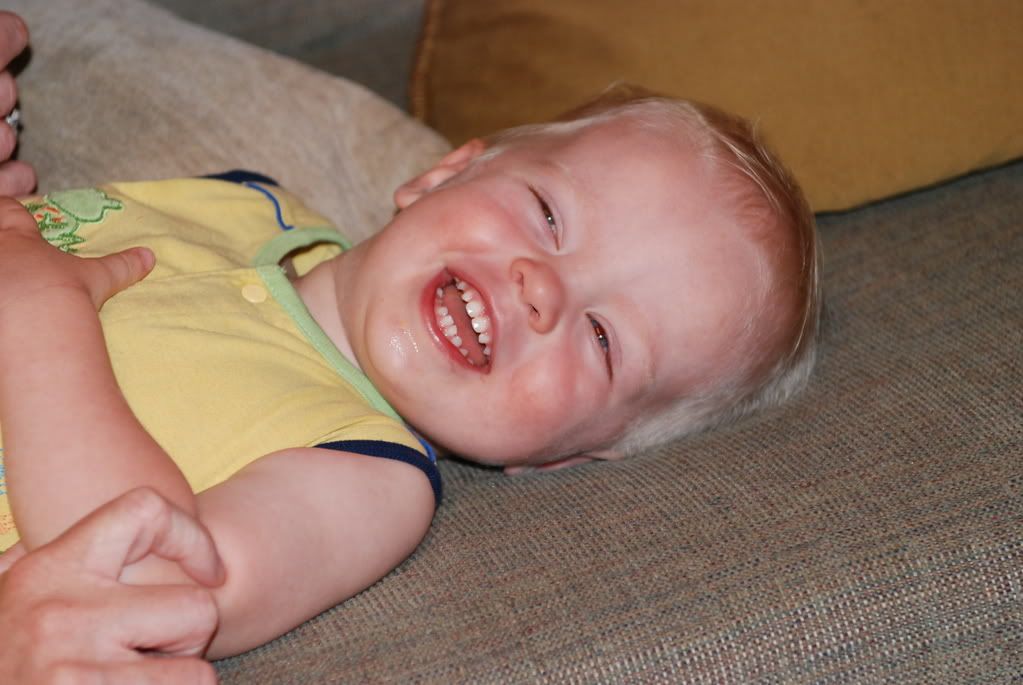 Occupation?

RF Engineer (Verizon Wireless) No, I am not the 'Test Guy'.....I do get to pick where all the new cell sites go and design them to get maximum performance. I also manage the capacity of the existing cell sites. It is a great job and I really like the people I work with.
Our admin at work, who knows the 'inner geek' in me, had this cake made for my birthday this year.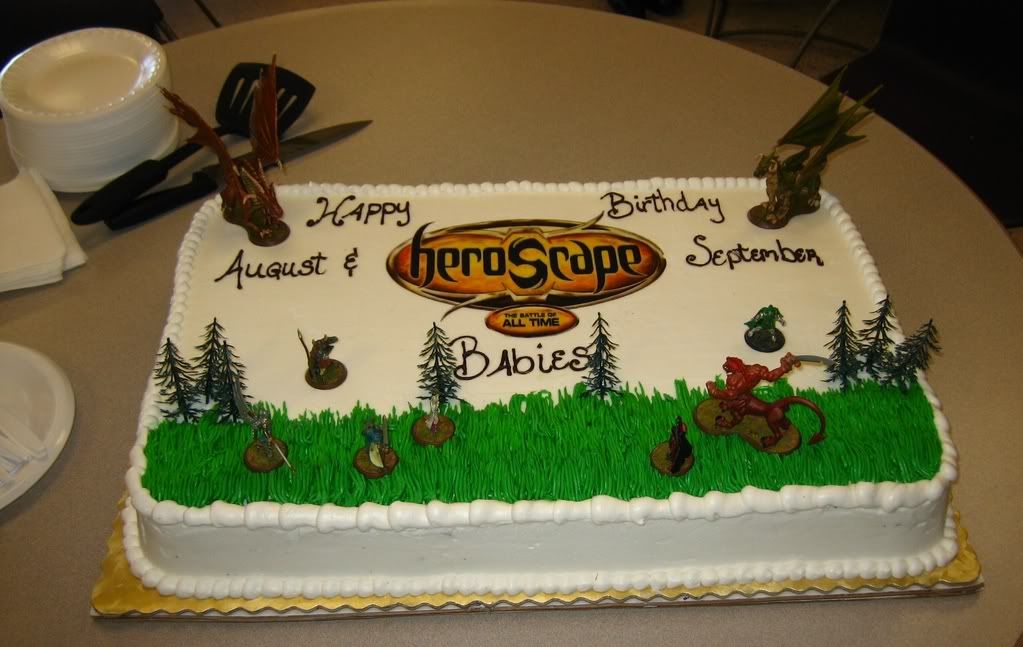 Allegiance and why?
Vydar - you probably already know this, but I love the Gladiatron/Blastatron combo and that makes it easy for me to like Vydar the most. I finished 3rd in the main event two years ago with this combo and won the General Wars event at Gencon last year.
When did you get into HeroScape and why?
Spring 2006. My son saw a Heroscape commercial and asked for Heroscape for Christmas. He got it, but we didnít play it for almost four months. I finally agreed to play a game with him and despite screwing up all the rules I really liked it. Over the next couple of months I played a lot with him and my brother who is a life long gamer and we were hooked. I also got my brother-in-law hooked and some other friends.
I found Heroscapers.com in August of 06í, but there wasnít really any kind of regular gaming in AZ, so I set about to host my first event. I rented out a meeting room at a centrally located library and got the word out through Heroscapers.com. I got many people interested in attending, but ultimately it was just my family that showed up. I was very disappointed after our first event, but I stuck with it and now we have a decent group out here with around 30 people coming to the NHSD events.
This is the banner, I made for the big event.

Favorite aspect of HeroScape and why?
First and foremost I love the competition of Heroscape. Donít get me wrong, I love to play a friendly game of Heroscape as much as the next guy, but the competitive side of it really gets me going. The thought of having a big game with some of the best players in the game gets me all geeked up! Playing Spider in the championship last year was great.
I love building maps, I love the variety in figures and units. I love that the designers did such a great job of making any army beatable by the right combination of other units. I love that there is an element of luck, but it is not the predominate factor in success. Everything about the game is amazing to me including its architect. Craig Van Ness, who designed the game, is one of the more humble people that you will ever meet. This is just one more reason that I love playing Heroscape.
Some custom terrain I made for one of the custom terrain contests.
Lonewolf's custom terrain
Favorite Hero and why?
My favorite hero is Cyprien. I love the theme of the Vampires. I like that he is ultra powerful (life drain) and has a glaring weakness (Soulborgs) at the same time, as vampires should. I donít like d20 figures that much (part of being competitive) but I make an exception for Cyprien.
Favorite Unique Squad and why?
Kind of boring pick here, but the KRAV are the best unique squad by far. They are usually the nemesis of the Glad/Blast combo as well.
Favorite Common Squad and why?
As previously stated, the Gladiatron/Blastatron combo. They are not the easiest units to play, but in the hands of someone who knows how to use them, they can be devastating.
Favorite Special ability and why?
I am stealing a little from CAV here, but bonding is really one of the key elements of this game that make it so good. It is a great way to keep the Heroís involved in a squad driven game.
What do you enjoy most about Heroscapers.com?
When I first joined the site, it was the sheer amount of information that was available, whether it be in FAQís or in the different threads. Later it became all the friendships that were formed both online and in-person as a result of the site.
Some examples of this are when I had a couple business trips to Little Rock and got a chance to spend some time with Rev and the Arkansas gang. I had another business trip to Oklahoma City and got to go down to Dallas for a couple days and get some great gaming in with Rˇchean and the Dallas crew. Without Heroscapers.com these never would have happened.
Favorite HeroScape moment:
Improbable victories are always my favorite moments, so Iíll go with one of those.
It was my fifth game of the first day in the main event 08. I had already lost my first game, so I knew another loss would keep me from moving on to the second day. My opponent has Q-9 + 3xMicrocorps + Theracus. I have 4xStingers + Raelin + 2xDeathreavers + Kaemon Awa. We are playing on Little Ramparts. I get my deathreavers rolling to the high ground and my opponent sends Q-9 up that way to. I actually get 1 wound on Q with a high-ground deathreaver attack. Q-9 chops through my rats like a hot knife through butter gains high ground and begins to pummel my start zone. I tried for several rounds to get stingers to height, but never did. I tried to juice a couple times and failed. I tried Kaemon for a while until he got holes shot in him and was lost. It was a real beat down and I was feeling hopeless, no matter how many skulls I rolled; my opponent rolled that many shields. Then it happened, I rolled three skulls and Q finally whiffed for me. This is what I have left after the beat-down 3 deathreavers, Raelin with 2 life, and 4 Stingers. My opponent has all of his Microcorp agents (9). It would take some of my best playing to make a comeback in this game and I knew it. I did catch a break in that I killed Q on order marker 1, so I was able to get my Stingers up to the height on my side, but they were far out of range of the Microcorp. I knew I would have to use my reavers to somehow tie up the Microcorp in order to have any chance, so my first two order markers were on them, getting them in position to keep the corps off of height. Next I got Raelin in to place and moved my last 3 stingers up to attack. It was a back and forth battle that ended with me having 1 stinger, and Raelin with 1 life. It was am amazing and improbable comeback that made me the 8 seed heading in to day 2, and ultimately finishing in 2nd place for the tournament. I was sure that I was going to lose that game, so it was a great moment for me.
Another board game you enjoy and why?
I have really latched on to Battlestar Galactica lately. I played this in Dallas with some of the guys and had a great time, so I bought it and have played it with my local group and we have really enjoyed it as well. BSG is so different from most other board games in that the people who are playing the game make all the difference in the quality of the game.
Tomb is a close second for me right now. I used to play the TSR game Dungeon when I was a kid and this is a lot like that game. I picked up the anniversary edition of Axis Allies yesterday! This is going to be getting some table time at the next game day.
Three true things and one lie about you:
Jordin Sparks was in my wifeís Chemistry class.
My parents met at NASA.
I played basketball regularly against Mike Bibby.
Kurt Warner goes to my church
Other interests?
Some of my other hobbies include web-design, video editing, and basketball. I enjoy watching the NBA and NFLÖ.go CARDS!!!!
I also have an obsessive compulsive nature that makes me buy crazy amounts of HeroscapeÖ.my 'book shelf' and 'garage'.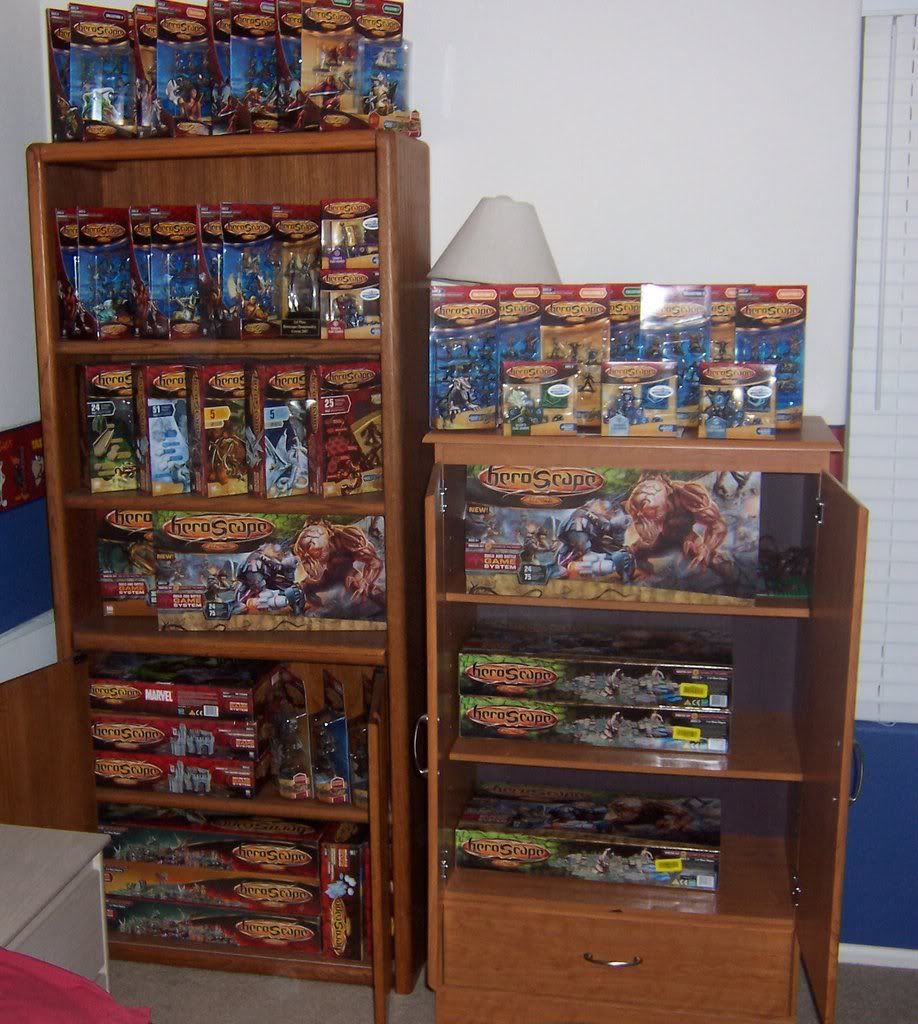 Do your kids and wife play board games too?
My wife does not play strategic board games. She loves Monopoly, Life, and Clue. (Boring!)
My 15 year old son,
scaper_dude
, who got me started on Heroscape, still likes to play. He is a really good player and made me very proud making it to the second day of the main event at Gencon last year as the number 11 seed. I think we are the first father/son duo to accomplish that! We had such a great time celebrating it the rest of the day Friday. Some great father/son moments were had there that wonít be forgotten.
I also have a 2 year old who hasnít been introduced to Heroscape yet and a new baby on the way. Both are future Heroscape players, they just donít know it yet!
What message do you have for the community?
Be thankful for Heroscapers.com! It is truly a great place and it is because of the people on it and the people who give freely of their time to run it and make it a better place.
Any Heroscapers member you'd really like to play against?
I would really enjoy playing against any of the top tier players Spider Poison, Rˇchean, Nwojedi, MattsterTruckRally, Kahrma, ManTrainChooChoo, just to name a few.
Who do you pick for the next 'Scaper of the Week?
Jexik
Comments
Posted January 25th, 2009 at 01:39 PM by

Fuzzie Fuzz
Posted January 25th, 2009 at 01:44 PM by

Hex_Enduction_Hour
Posted January 25th, 2009 at 01:48 PM by

Jexik
Posted January 25th, 2009 at 01:49 PM by

AliasQTip
Posted January 25th, 2009 at 01:59 PM by

Cleon


Updated January 25th, 2009 at 02:05 PM by

Cleon
Posted January 25th, 2009 at 06:47 PM by

Heroscape Elffy
Posted January 25th, 2009 at 07:11 PM by

lonewolf
Posted January 25th, 2009 at 07:29 PM by

S1R_ART0R1US
Posted January 25th, 2009 at 08:00 PM by

Heroscape Elffy
Posted January 25th, 2009 at 10:17 PM by

Cavalier
Posted January 25th, 2009 at 10:41 PM by

Jexik
Posted January 25th, 2009 at 11:39 PM by

ABOMINATION
Posted January 26th, 2009 at 07:36 AM by

scottishlad5
Posted January 26th, 2009 at 12:40 PM by

skyknight
Posted January 26th, 2009 at 02:53 PM by

Cavalier
Recent Blog Entries by Hex_Enduction_Hour