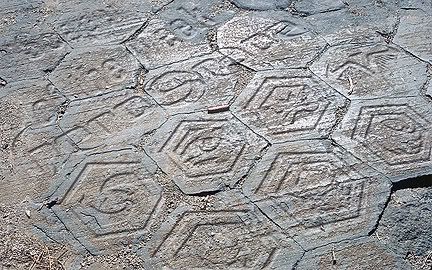 Scaper of the Week 23 - NWOjedi

This Scaper of the Week has one of the greatest jobs of any of us.
He gets to paid fiddle with, polish, buff, poke, prod, make shiny, and clean out his very favorite interest - or is it his
second
favorite?
Let's leave it at that and see what he's sharing with us this week.
Our twenty-third '
Scaper of the Week
is
NWOjedi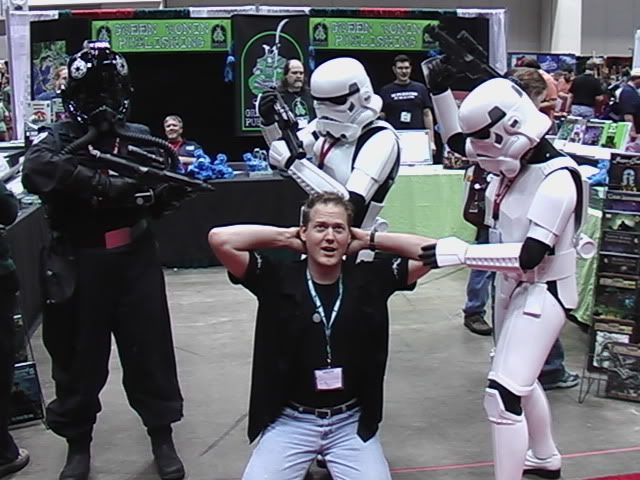 Who are you?
Neo Skywalker
What is your avatar and how did you come up with the username NwoJedi?
My avatar is the mischievous cheshire cat taken from the greatest pinball machine there is....Cirqus Voltaire. Nwojedi comes from a user name i've been using for the past 15 years, Because I used to be a wrestling fan back in the day, and my last name is skywalker.
Age:
36
Occupation?
Restoration artist. You can see before and after pics of my work at
captain neo's
Allegiance and why?
Ullar, because i'm a tree hugging dirt worshiper.
When did you get into HeroScape and why?
I've been playing since the game first game out. I like games with tons of pieces. It was on sale, I checked it out. Read the reviews on gamergeek, and went back and bought it on a whim.
Favorite aspect of HeroScape and why?
Kicking asses and taking names. Because it's fun.
Favorite Hero and why?
Me. Because I rock.
Favorite Unique Squad and why?
Marro warriors. Because it's the most bang for your buck.
Favorite Common Squad and why?
Marro drones. Because they are fun to play. Not practical, but fun nevertheless.
Favorite Special ability and why?
Frenzie, because you can't beat getting another turn.
Anything you'd change about the game - a unit, rule, or mechanic?
I'd change how the factions are setup. Split things up with more of a defined cut and dry affliliation.
What do you enjoy most about Heroscapers.com?
Thread derailment and talking about senseless dribble.
Favorite HeroScape moment:
Every Gencon, when I get to meet many of the awesome guys that play this game. I've never seen a game that has such a following of people, where so many have personalities that compliment one another. It's awesome.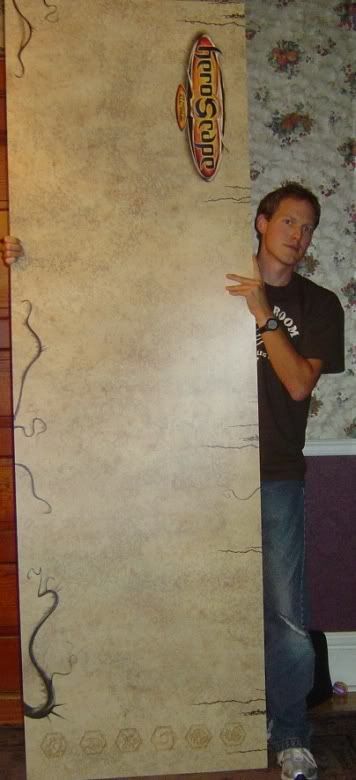 Another board game you enjoy and why?
World of warcraft mini's. The mechanics and balance is setup so well. Stratigic element is top notch.
Three true things and one lie about yourself:
In the dark i've been mistaken for a horse. I'm a temple of extasy. I love to play. I'm a virgin. You pick the one you think is a lie.
Other interests?
Pinball, gaming, eyes wide shut parties.
What got you into pinball?
Video games. Used to be a big time video gamer since pac man came out. They used to hold the world pinball championships in milwaukee (near me). I recieved a flyer for it to sign up. Wasn't really into pinball at that time, but figured it's an arcade game so i'd start playing and practice. That year, addams family came out. Realized pinball now had a story, and ending like video games. I was hooked from then on out.
Favorite pinball machine
Covered earlier, but Cirqus voltaire is the all time favorite. Followed closely by Twilight zone. With this hobby, once you get one machine, you become obsessed. Need more. I now have 20 that are my favories. Took me awhile to refine my collection to only my top 20 but I managed. Now I need a new house so I can fit 30.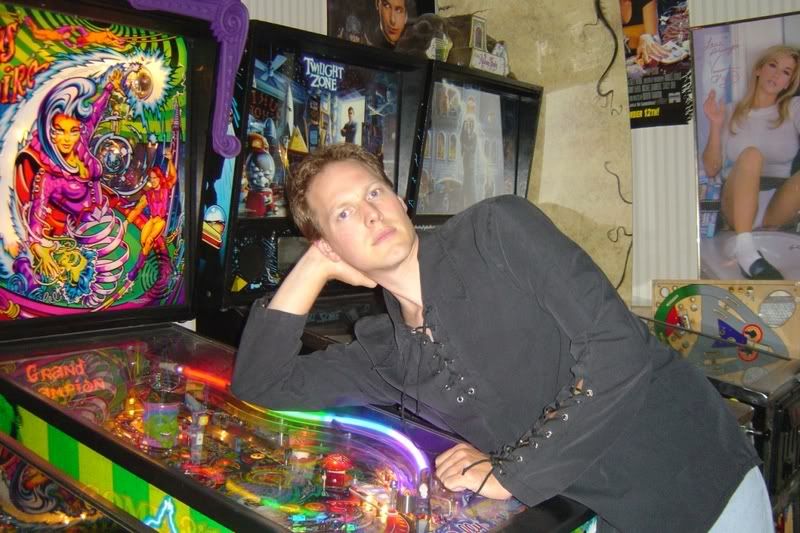 Greatest performance at a pinball tournament
Last year the midwest gaming classic, is the first and only time i've taken first in B division. What helped is that my Cirqus Voltaire machine was used in the finals.
What message do you have for the community?

hummmmm, a advice I have for anyone, probably shouldn't be in a forum that kids read.
Any Heroscapers member you'd really like to play against?
Spiderpoison and lone wolf. These two guys, i've been partnered up with in the finals and they managed to squeek out a victory on me. I'd like to play it again and have another shot. I did get to play spiderpoison one other time, and we ended up in a Tie. Screwed us both out of the finals that year.
Who do you pick for the next 'Scaper of the Week?
R˙chean.
Thanks for your time, Neo!
Comments
Posted March 9th, 2009 at 06:50 AM by

rym
Posted March 9th, 2009 at 09:28 AM by

nyys
Posted March 9th, 2009 at 10:36 AM by

NamibianScaper
Posted March 9th, 2009 at 10:37 AM by

Nwojedi
Posted March 9th, 2009 at 10:59 AM by

Nwojedi
Posted March 9th, 2009 at 12:28 PM by

R˙chean
Posted March 9th, 2009 at 12:33 PM by

Nwojedi
Posted March 9th, 2009 at 03:54 PM by

Cleon


Updated March 9th, 2009 at 04:40 PM by

Cleon
Posted March 9th, 2009 at 07:32 PM by

nyys
Posted March 9th, 2009 at 08:51 PM by

GaryLASQ
Posted March 9th, 2009 at 09:01 PM by

Hex_Enduction_Hour
Posted March 10th, 2009 at 12:32 AM by

Nwojedi
Posted March 10th, 2009 at 12:33 AM by

Nwojedi
Posted March 10th, 2009 at 10:22 AM by

SuperflyTNT
Posted March 10th, 2009 at 11:25 AM by

R˙chean
Recent Blog Entries by Hex_Enduction_Hour