Gencon trophies 2009
Now that they've been
posted
by R˙chean, I thought I'd share how a few of the trophies for this years GENCON were pitched and how they turned out.
My
inspiration
for approching him came from seeing what my very gracious roomie had crafted for GENCON 2008. I saw the pride he had in presenting those trophies and I wanted to continue on the tradition of custom made pieces.
When I saw this
thread
, I found my chance at offering to make one.
I should apologize for my photoshop skills in advance, but this:
turned into this...
This:
into this...
and this into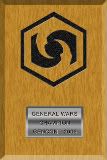 these...
I have to admit, I had a lot of fun drawing these up and sending them to R˙chean via PM.
I know there lots of you out there much more talented than me, so I encourage you to look into throwing some ideas out there for next years events.
Anyone traveling next week, please have a safe trip to Indy, and I'll see you on the battlefield!
Comments
Posted August 6th, 2009 at 01:57 PM by

Mr Migraine
Posted August 6th, 2009 at 01:58 PM by

Heroscape Elffy
Posted August 6th, 2009 at 11:39 PM by

Onacara
Posted August 7th, 2009 at 12:27 PM by

ZBeeblebrox
Posted August 11th, 2009 at 09:46 PM by

stay_golden_PONYBOY
Recent Blog Entries by stay_golden_PONYBOY