Peasant: Fight for Freedom
While I've got nothing much better to do, I just thought I'd toss out a game idea I came up with a while ago, but have never (yet) made anything of.
The game, as per the title of the blog, is called Peasant: Fight for Freedom. The basic premise is that a crime was committed in your kingdom, and the offense is punishable by death. You and the other player(s) are all suspected of the crime, though, and since there is not enough evidence to convict any one of you (the crime was obviously committed by an individual, though), the king has decided to hold a contest.
The loser of the contest will be beheaded, while the winner(s) get a place in the king's court as jester! Game play would be fast and light, with the focus on gaining "laughter points" with the audience. Each peasant (player) gets to dress up in a silly (or humiliating) costume and torture each other for the audience's amusement with things such as rotten tomatoes, releasing head-butting goats onto the field, or even tar & feathering!
As with most of my ideas, however, I start out with a brilliantly simple concept, and then overly complicate it. So I haven't done much work beyond what I have posted.
EDIT 05/27/08
Alright, I've been thinking about this game some more. Of course, without the rules written out, no one knows what's going on in my head. I'll try to give a quick idea of what I'm thinking...
The main mechanic is going to be a stack of tomato cards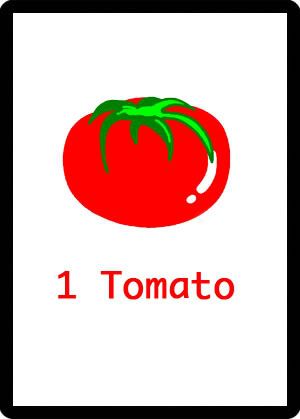 that is accessible by all players. This stack will be referred to in the game as the Tomato Bucket (the card backs will feature a very large wooden bucket overflowing with tomatoes).
Each tomato card will have a different number of tomatoes on it (from 1 to 3).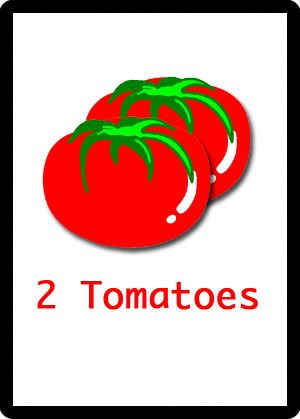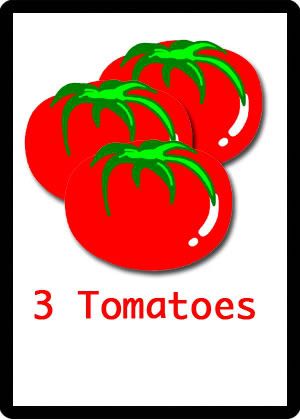 The Tomato Bucket will contain # (number to be determined) tomato cards. Roughly 50% of them will be single tomatoes, about 35% will have 2 tomatoes, and 15% 3 tomatoes.
At the end of each player's turn, they get to throw tomatoes at one of the other payers to earn laughter points. You must throw 5 tomatoes to earn 1 laughter point, and can earn no more than 1 point per turn this way, no matter how many tomatoes you throw. Throwing two 2 Tomatoes cards and one 1 Tomato card, for example, will earn you 1 laughter point.
As I mentioned earlier, laugher points are the scoring system for the game. They are tracked with the following.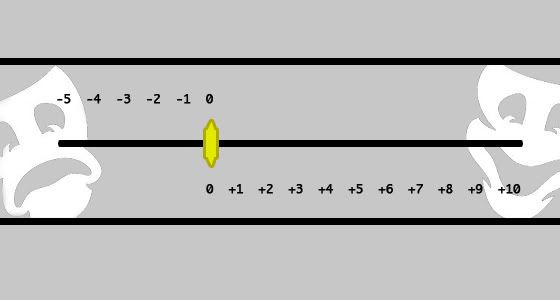 When any player reaches 10 laughter points, every player with 10 laughter points wins and becomes a court jester! Whoever has the lowest laughter score loses their head! Additionally, if any player reaches -5 laughter points (negatives mean the audience is boo-ing them), the game is over and they lose. Each other player wins, but only if one of them is also at +10 does anyone get to be the court jester.
For each laughter point earned a player draws another tomato card from the Tomato Bucket. There is no penalty for losing laughter points. There are other cards in the tomato bucket as well, all designed to interact with throwing tomatoes and/or earn/lose players laughter points. For example, I present the Angry Goat: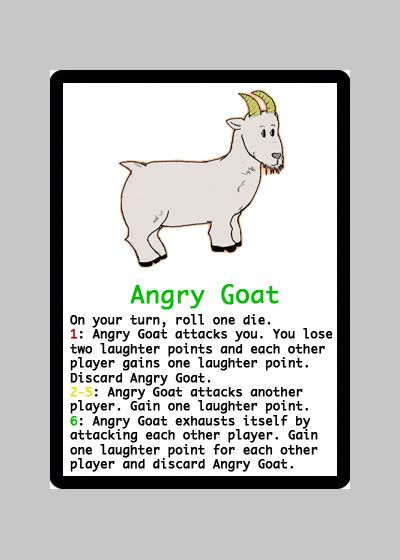 All effects on non-tomato cards happen before throwing tomatoes at the end of the turn, in whatever order you choose. As you can see, the outcomes of some card will be determined by d6 rolls. There is also a card (yet to be revealed) (which will be in the Tomato Bucket in small quantities) that can affect any roll or tomato throw! It can even turn your opponents' cards against them!
Finally, for now, there are the player cards. To increase the variety of the game, each player starts the game with a costume as mentioned earlier.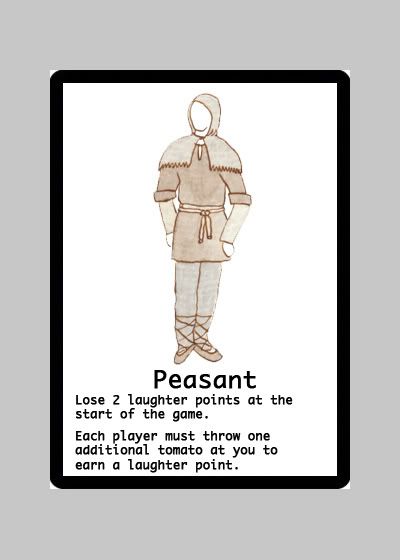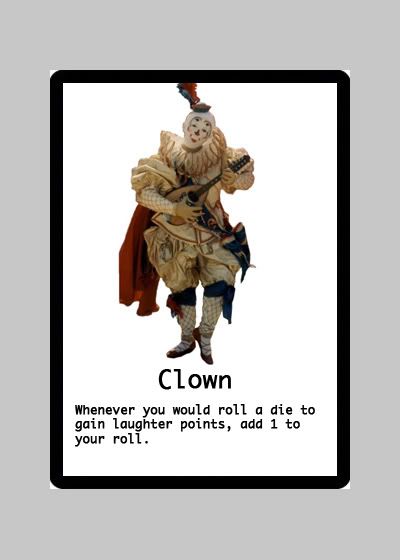 As you can see, the audience is not amused by someone coming to the contest in their normal clothing. However, the audience also doesn't think a peasant being hit by tomatoes is as funny as anyone else being hit by tomatoes, probably because it happens all the time. A player dressed as the Peasant starts the game at -2 laughter points, but other players must throw a total of 6 tomatoes at them to earn a laughter point.
As you can see, clowns make everything funnier. (OK, in reality they make everything creepier, but in the game they're funny!)
There will be # (probably 6) different costumes. Players either take turns choosing one before the game, or deal them randomly.
And that's all I have for now! There are a couple more mechanics (including a multiplayer one) to be revealed, and I'll cook up some more cards for next time at well. Let me know what you think!
Comments
Posted May 25th, 2008 at 01:05 PM by

Soundwarp SG-1
Posted May 27th, 2008 at 02:19 PM by

NecroBlade
Posted May 27th, 2008 at 02:55 PM by

Wind Lane
Posted May 27th, 2008 at 02:58 PM by

NecroBlade
Posted May 27th, 2008 at 05:19 PM by

Billtog
Posted May 27th, 2008 at 08:49 PM by

Soundwarp SG-1
Posted May 28th, 2008 at 01:22 AM by

NecroBlade
Posted May 29th, 2008 at 03:13 PM by

Eberak
Posted May 29th, 2008 at 06:26 PM by

Soundwarp SG-1
Posted May 29th, 2008 at 09:56 PM by

NecroBlade
Posted June 19th, 2008 at 01:25 AM by

DeceitfulBeauty
Posted June 19th, 2008 at 01:25 AM by

DeceitfulBeauty
Recent Blog Entries by NecroBlade