My coffee addiction
This is the first blog I have ever done before in my life. I have no idea how it will turn out, but I will press on regardless. I remember my good friend who works for FSN Arizona telling me that I should blog to get better prepared for my future career in sports journalism/broadcasting. Since the site upgrade provided all members with a blog to use, I thought I would use this to help me get on the right track. But as the title suggests, this will most likely have little to do with my love of sports. Instead, it will be about my other love, coffee.
Ever since I was little, I have drank coffee. I don't know if that's normal or not, but I do it anyways. I sometimes drink more than one 12-cup pot of coffee a day (and they say too much caffeine is fatal, HA). Every Saturday night, I even make a pot of coffee to enjoy throughout the night while I dance around the kitchen in my parent's house to local hip-hop stations, but that story is for a later blog.
My one big issue is this: I HATE the taste of regular black coffee. I just can't stand the taste in my mouth. There have been times when I have just tried it to see if it changed my mind about it, but to little avail. Every time I have a cup, I always need milk or cream in it to dilude the awful taste.
Last night, I was trying to come up with some ideas for a story I have been working on this past month. Only a couple of other people know what it's about or have even read it. So far, I have gotten mostly positive feedback, but I wanted to do something big for the next part (which would be the fifth installment in my story). So I decided to make some coffee to help me relax a bit.
After making the pot, I came to a very sad realization: there was no milk left in the house!
This leaves me with two options:
1. Pour up the coffee for my dad to drink in the morning (since he drinks plain coffee)
OR
2. Forsake my usual belief on black coffee and try to drink it as it is.
Well
2
won over my mind. It actually tasted pretty OK to me. Again, I have no idea whether or not a 16-year-old should be drinking a beverage that makes some people bounce around like one of those Superballs, but I love it anyways. Just one of those crazy things about me I guess.
(I leave you with this cool pic I found while surfing Photobucket)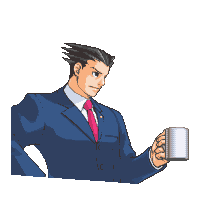 Comments
Posted May 26th, 2008 at 04:09 PM by

STAROCEAN980
Posted June 2nd, 2008 at 08:59 PM by

Naruto
Posted February 15th, 2009 at 01:31 PM by

NamibianScaper
Recent Blog Entries by NiteRaider