Grok Customization
After looking at the Grok Rider's concept art, I got the Idea for this thread.
I figured out that Me-burq-Sa, along with the Groks are rather easy to take off of their mounts.
So I am thinking of putting a squad of three Grok's on 3 of Me-Burq-Sa's horses.
Once I get some more Grok's and Me-Burq-Sa's, I'll post some pictures of my creations.
Feel free to try yourselfs if you like the idea.
Steps
[Aplogize for blurry photo!
Step 1

Get Grok Rider figure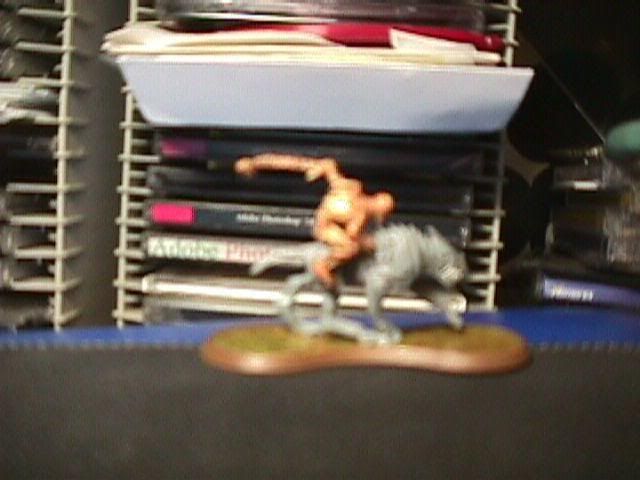 Step 2

While handling figure, move the Rider back and forth forward and backward* Aiming to try to get the figure's Legs over the grok's body
*[With the outstretched figure, your going to move him forward instead of backward]
Step 3

Now you need to try and swing the legs of the Rider around the Grok.
Step 4
The goal of that was to accomplish turning the Grok around[So he would easily just fall off his steed.]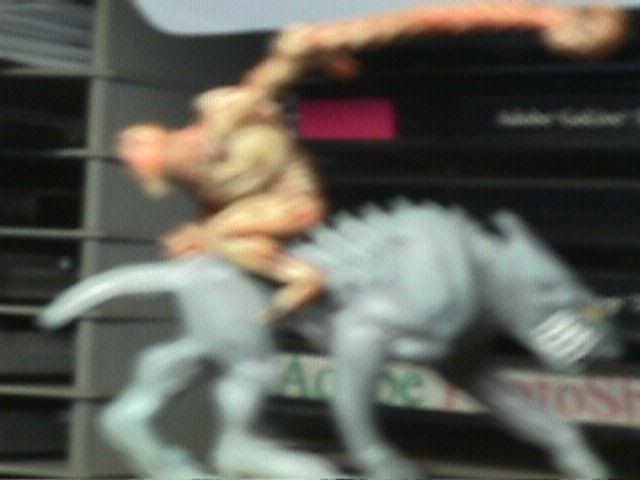 And now you have the Rider, and the Grok Seperate.
Grok
Utgar
Wulsinu
Common Squad
Scavengers/Hunters
Wild
Large 4
8 Move
1 Range
3 Attack
4 Defense
85 points
Maul- When rolling attack dice against a small medium figure if a Grok rolls a skull on every die the defending figure takes a wound for each die rolled.
Bit the hand-
A Marro Figure may never move into/Through a space adjacent to a Grok.
[A Grok may move Adjacet to a Marro however]
Comments
Posted June 25th, 2008 at 05:19 PM by

johnny139
Posted June 25th, 2008 at 05:43 PM by

Shades fan
Posted June 28th, 2008 at 10:09 PM by

nyys
Posted August 1st, 2008 at 12:59 PM by

scottishlad5
Posted June 9th, 2009 at 12:39 AM by

ElvenEnvy
Recent Blog Entries by Shades fan