October: National HeroScape Phenomemonth?
It is funny how passing thoughts can turn into a near phenomenon. It was over 3 years ago when one of these passing thoughts occurred on these forums:
I posted that back in 2006 when I noticed that the Tree Town Open and Hexes in Texas had selected the same day for our fall tournaments. I never thought it would turn into this.
Codeman made sure it took off
and three years later, we are still going strong with over 500 people competing in over 20 different events throughout the US and Canada.
Most events occurred on the weekend of October 17th & 18th with some happening earlier or later in the month, for what is becoming a month long celebration of this great game. All of the events are a great example of what scapers will do for our beloved game.
Tree Town Open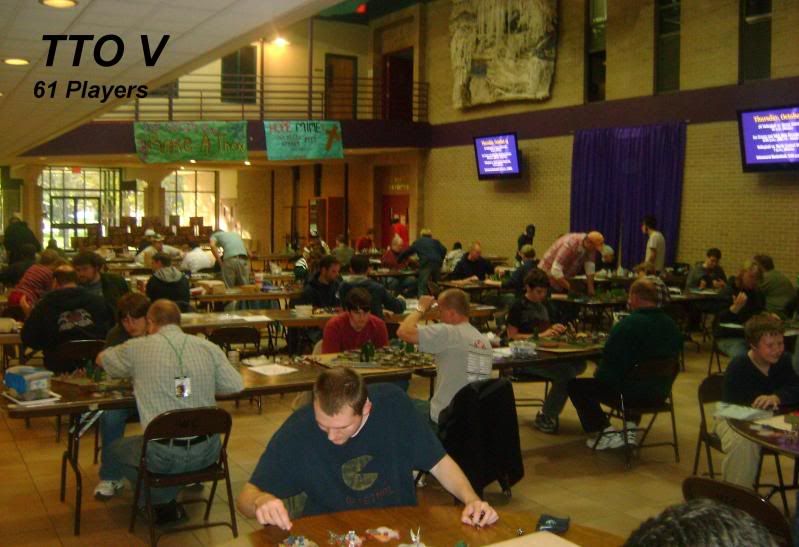 The Tree Town Open, run by Codeman and Jormi_Boced, is the longest running and most prestigious event in our community. For 5 years now they have run this tournament and it has become the showcase NHSD event along the way. TTO is the most well attended tournament every year.
Tree Town V
was no exception as they checked in with 61 players. Those guys do an excellent job in providing a game day experience that goes far beyond pitching dice at a tournament. My hat is continually off to them.
Hexes in Texas
Hexes in Texas has sort of been following TTO's lead. We adapted the event from a tournament that was first held in February 2006. Our community and event has grown through the years and
Hexes in Texas 2009
was our largest event ever. Our budding relationship with
Madness Games&Comics
has helped our community grow even more. Year after year, we draw in players from all over Texas and the greater southwest.
National Ohioscape Day
Ohio has some of the strongest players and best events and always represents on NHSD.
This year's event
drew in 34 players. Check out the above video for some game day action.
Scape-A-Palooza II
The North Eastern 'Scapers Association always has their
Scape-A-Palloza
event for NHSD. NESA really runs a tight ship and has loads of fun. They even had Heroscape Jeopardy at their event. 35 players came out to enjoy all the festivities!
SoCal Slaughter
SouthernCalifornia has been a hot bed for 'scpape for years. Their events are well atended and run. The
SoCal Slaughter
was a big success. The above video snippet is from the prize distribution.
That is just a sampling of some of the events that celebrated NHSD this past October.
Check out these threads for more results, battle reports, and images from events held all over the country.
UTAH NHSD
- 40 players

Bay Area Brawl
- 20 players
Maryland NHSD
- 25 Players
Florida Frenzy
- 16 players
Lawton/Ft. Sill NHSD
- 14 Players

Rocky Mountain Rumble
- 14 players
New Jersey Crossfire
- 14 players
Seattle NHSD Tournament
- 14 players
Madison, WI NHSD
- 22 players
Raligh NHSD "Cage Match"
- 25 players (updated)
OVAHcon
- 12 players
Toronto "inter" NHSD event
- 16 players
NHSD Monsters in Mahomet
- 18 players
Central Arkansas NHSD
- 16 players
Peoria NHSD B-list Tournament
- 16 players
2nd Annual Winnipeg NHSD Bash
- 16 players
Other results thread
All of it made possible by the event coordinators and tournament directors who give their time and effort to make these events a success.
We also owe thanks to Wizard of the Coast, Heroscapers.com and all of our sponsors and site supporters. It takes all of us to make it work. I encourage you to become a site supporter or renew your site supporter so we can continue to facilitate and support Heroscape events like NHSD and GenCon.
'Scapers are simply the best!! I look forward to doing it all again in 2010.
Comments
Posted November 7th, 2009 at 12:23 AM by

dok
Posted November 8th, 2009 at 01:12 AM by

rym
Recent Blog Entries by R˙chean