Hyground Tiles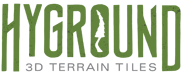 Many of you have probably noticed the promo for Hyground Tiles in the sidebar. If you haven't seen what these guys have to offer,
check them out
! They look
very cool
and have obvious use in Heroscape.
Their Kickstarter
is underway and if successful, they offered to send us
a bunch
of their terrain for use to use as prizes for site members. Pretty sweet. (That's why we put up the promo in the first place, as a "thank you.")
If you want to discuss this project,
the Hyground Tiles thread is here
. This is going to be my first Kickstarter backing.
~Xorlof
Comments
Posted August 19th, 2014 at 04:57 PM by

orgsbane
Posted August 19th, 2014 at 06:14 PM by

yamissflash
Re: HyGround

Posted August 19th, 2014 at 08:10 PM by

Johngee
Posted August 19th, 2014 at 08:57 PM by

Scapemage
Posted August 19th, 2014 at 11:24 PM by

Wanderer999
Posted August 20th, 2014 at 12:42 AM by

JamesandthegiantJotun
Posted August 20th, 2014 at 10:27 AM by

Confred
Posted August 20th, 2014 at 11:36 AM by

Xorlof
Posted August 20th, 2014 at 03:44 PM by

Kinseth
Posted August 20th, 2014 at 04:02 PM by

ZBeeblebrox
Posted August 20th, 2014 at 10:34 PM by

IAmBatman
Posted August 22nd, 2014 at 07:08 PM by

A3n
Posted August 23rd, 2014 at 12:55 AM by

Xorlof
Posted September 6th, 2014 at 01:27 AM by

Brease
Recent Blog Entries by truth