Scaper of the Week # 41 - NecroBlade
Posted October 25th, 2009 at 04:44 PM by
rym
Well, here we are with another highly anticipated 'Scaper of the Week interview. This week's honor goes to none other than NecroBlade. Much like
Onacara
,
NecroBlade
'
s
one of those people you either love or hate. And I think
GreyOwl
said it best last week when
GreyOwl
picked "
NecroBlade because at first he irritated me, and then all of a sudden he no longer did, and now we even agree more often than I'd like to admit. And I'd like to know why
!" It's hard to believe he hasn't been nominated before now! But wait no more, friends. Read on to discover more about the young man behind the Robert Downey, Jr. avatar.
I present to you:
Member of the Year for 2009, the Nefarious NecroBlade!
Our 41st Scaper of the Week:
NecroBlade
Who are you?
My name is Jacob Rathman...what else do I put here?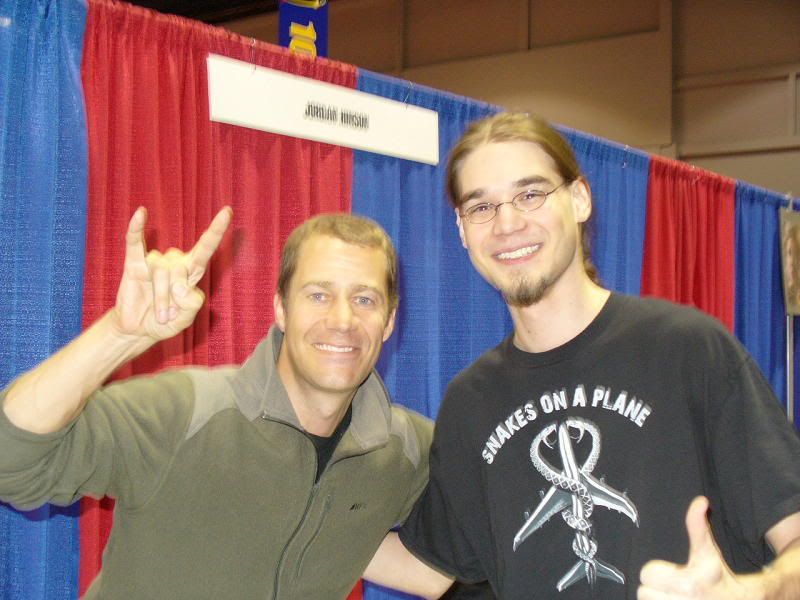 (Me not only getting to meet the lead actor of my favorite Sci-Fi show, Collin Ferguson of Eureka, but also convincing him to throw up some horns!
)
Who, or what, is your avatar and how did you come up with your username?
My avatar is RDJ as Tony Stark, a still from the Iron Man 2 trailer. I came up with my username a loooooong time ago. Trying to think of something "cool" I came up with two of my favorite aspects of fantasy games: sharp blades and necromancy.
Age:
23
Occupation?
Part time marketing assistant looking for more work.
Allegiance and why?
Einar. Samurai. 'nough said.
When did you get into HeroScape and why?
I believe it was my birthday '05 that I got Rise of the Valkyrie as a gift. Found out there was more to the game (I think Wave 3 was the newest release at that point) and have been collecting and playing since!
Favorite aspect of HeroScape and why?
Too many to choose from. Buildable terrain appeals to the LEGO lover in me, mixing of genres has always been fascinating, best gaming community I've ever been part of, customs galore, etc.
Favorite Hero and why?
Kaemon Awa. Has been since before he came out and always will be. My favorite thing about that first RotV was how simple yet thematic the Izumi Samurai were. K. Awasome just took it to a whole new level.
Favorite Unique Squad and why?
Izumi Samurai, for above reasons.
Favorite Common Squad and why?
This is tougher, but I think I have to go with the Marro Drones. After realizing what "commons" were all about, they were the first ones I hunted down and got 4 sets of, and are still fun and unique to play.
Favorite Special ability and why?
Counter Strike. See samurai. Even though it sucks.
It looks like you've done some custom work as well. Favorite Custom and why?
Of mine, probably Judge Blacklock (which Aldin won at NHSD '09 and I still owe him a card
):
He's a pretty direct conversion of the Mage Knight figure of the same name (though that's my custom figure on the card), using formulas to convert the various stats (if anyone's interested, I could share them, though with the Mage Knight website gone I can't find stats and use them any more
).
Of the many, many, many other wonderful customs out there, one of the absolute best has to be Annerios' Scorpion (both for the figure mod and the card):
Favorite Custom ability you would like to see incorporated into classic 'scape?
I have no idea. There are simply too many great custom abilities and many more to be created!
Anything you'd change about the game - a unit, rule, or mechanic?
Hmm, I've seen a lot of proposed changes, and while I do like some of them, I don't think I'd ever use them. HS is great the way it is and changing one thing will end up changing a lot more.
Favorite NHSD 2009 moment from this past weekend?
Finding out after the final round that I was literally ONE figure in either of two games away from first place! Great moment for me either way it went since I had never paced that high in a tournament. It also felt good to be the only one to hand the victor, KCUMaster, a loss. NHSD '09 was a blast.
10th Foot or 4th Mass?
10th Foot, by virtue of the
symbol.
Which do you prefer, tournament play or casual style?
Casual. No matter what game I play I'm not big into the competitive scene, though I haven't failed to have an incredible time at an HS tourney yet! I just like coming up with different formats, multiplayer, and scenarios (though I don't play them often).
What do you enjoy most about Heroscapers.com?
Definitely the people. This is one of the most welcoming and friendly communities you can find. Customs are a close second, which makes C3G tops. I'm outnumbered by some serious comic nerds there, but they're the real reason the project is succeeding as well as it is.
Favorite HeroScape moment:
Have to go way back to my first multiplayer game for this one. 3-player capture the flag on a relatively small map with the flag on a castle in the middle. 300-point armies with RotV figures and not much else. I had Charos and Ne-Gok-Sa. I engaged as much as I could with Charos and left him there as a distraction while NGS climbed for the flag. One of my opponents was knocked out, though he still had un-dropped Airborne Elite, so we let him keep rolling each round. Well NGS got the flag and was one turn away from my start zone at the end of a round...and the AE FINALLY drop at their last chance! But I win initiative, charge the AE with NGS...and roll a 20 for Mindshackle!!! Game over.
Another board game you enjoy and why?
A Touch of Evil. I love the theme and flavor. I'd love to try a team game this weekend at Gamefest at PSC in Louisivlle
http://www.heroscapers.com/community...ad.php?t=26947
.
Three true things and one lie about yourself:
I've been rear-ended by a Porsche.
I've completed all the achievements in Left 4 Dead.
I own a hamster derby-winning hamster.
My middle name means "crooked nose."
Other interests?
Any board games, really. Some computer/video games (though I don't play online much outside of L4D). Design.
Any Heroscapers member you'd really like to play against?
Anyone, especially the big names. Revdyer and his valiant Sentinels and Mass. Power rankings guys like s_p and Jexik, so I can get my butt kicked but hopefully improve my game.
What message do you have for the community?
Don't stop creating! This site has so much to offer not just in customs but in game theory and the like as well it's mind-boggling. Keep it up.
Who do you pick for the next 'Scaper of the Week?
Man, who hasn't been picked yet? How 'bout
The B.I.V.
, another great custom creator and figure modder!
Thanks for a great interview, NecroBlade.
Comments
Posted October 25th, 2009 at 05:16 PM by

ABOMINATION
Posted October 25th, 2009 at 05:32 PM by

J4Jandar
Posted October 26th, 2009 at 02:44 PM by

NecroBlade
Posted October 26th, 2009 at 03:46 PM by

ollie
Posted October 26th, 2009 at 05:17 PM by

Einar's puppy
Posted October 27th, 2009 at 09:32 AM by

Sherman Davies
Posted October 27th, 2009 at 06:32 PM by

ABOMINATION
Posted October 27th, 2009 at 06:51 PM by

Onacara
Posted October 28th, 2009 at 12:51 AM by

NecroBlade
Posted October 28th, 2009 at 11:49 PM by

Sherman Davies
Posted October 29th, 2009 at 03:48 PM by

Supergeek
Posted October 29th, 2009 at 06:41 PM by

Einar's puppy
Posted October 29th, 2009 at 06:43 PM by

NecroBlade
Posted October 30th, 2009 at 11:05 AM by

Sherman Davies
Posted October 31st, 2009 at 07:01 PM by

jotun7
Recent Blog Entries by rym