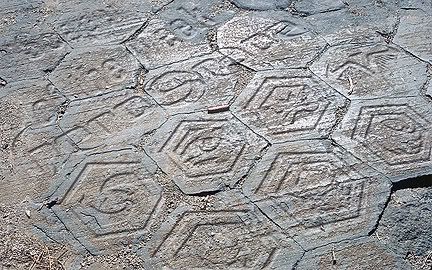 Scaper of the Week 9 - Onacara

Welcome to Week 9 of Scaper of the Week!
Our last candidate,
Nyys
has chosen the ever-present, people-loving, autograph-seeking
Onacara
for this week's spotlight! Onacara, I'm glad to see you in the spotlight!
Our ninth 'Scaper of the Week is
Onacara
Age:
40
Allegiance and why?
My allegiance is to Vydar although I do find myself playing alot of Einar units lately...but a wise man once said "Hokey religions and ancient weapons are no match for a good blaster at your side, kid." And after all he got the chick at the end.
When did you get into HeroScape and why?
A couple years back I had eyed the bubble display at TRU and thought it looked really cool but couldn't succumb to buying it for myself. Then the greatest thing happened. I asked my oldest what he wanted for his birthday and he said.."Oh at TRU they have this cool looking game with dragons and vikings and stuff in a bubble"..the rest is history.
Favorite aspect of HeroScape and why?
I love the fact that the game constantly changes. Sure there are some tried and true baord games played on static boards which I still love to play but being able to take the same items from 1 box and make 40-50 different maps out of it is what rocks.
Favorite Hero and why?
If there was an Isamu fan club then I would be it's president because that little red ninja has gotten me out of so many jams. He is alot more versatile than many give him credit for. I cringe whenever someone refers to him as "filler"
Favorite Unique Squad and why?
Krav Maga...they are the Unique squad I tend to play with the most..they are like good old friends always there to get you out of a jam. Need them to draw fire..they're there. Need them for a first strike...they're there. Need them to bail you out of the drunk tank at 3 am...they're there.
Favorite Common Squad and why?
I was a huge fan of Tagawa Samurai Archers until wave 8 came out now I have developed a Foot Fetish. I will take these guys any day of the week (in fact I played with just 6 squads of them at NHSD)..I sometimes wonder how the hell they lost to us in 1776.
What do you enjoy most about Heroscapers.com?
I really like the people. I could give a Deathreaver's Patootie about strategy guides and color coded reference to what each unit falls under. I like to just hang out and talk to people. This is probably why my post count is so high.
Favorite HeroScape moment
This may sound weird but my favorite moment was the day my oldest son beat me for the first time (after over 100 times losing to me) It showed me he was learning from previous mistakes and really grasping the concepts of strategy in play.
One HS unit you would change and why?
I really wouldn't change a single one as I think incorporating and adjusting to a units shortcomings only enhances your ability to play this game. There are a few units where I would possibly change their color schemes or something but not the units themselves.
Another board game you enjoy and why?
I refer to them as the trinity because I will play them whenever anyone wants to play and they are Monopoly, Scrabble and Trivial Pursuit. I grew up with all 3 and they all get my competitive juices flowing. I hate to lose at any of them.
Other interests?
I used to collect autographs religiously. I would camp out in front of hotels and arenas and get celebrities and athletes to sign stuff for me. It was a lot of fun and a lot of laughs at times. My friend Mickey and I tailed Bob Dylan around or 2 whole days and he finally gave up and signed for us...adding "You guys must either really like me or you are trying to win a bet" (I really like ya Bob...named my son after you and everything.
What message do you have for the community?
I am not a role model. Seriously do not try and emulate me because most of the time you do not know how to do it. There is a subtlety involved to make sure you are straddling that fine line between "funny guy" and "big jerk".
Why Elvis Costello?
My musical tastes are very eclectic. I like everything from rock to country to jazz to blues to new wave...etc. Elvis Costello's music spans all of those genres. Like many I knew his stuff from the radio but then I bought a couple of his cd's and discovered I was missing a whole lot. Lyrically he is pretty diverse also. He has some songs that are just good ole fun songs but then he sprinkles in the politically charged song now and then that makes you look back and go ...wow. Tramp the Dirt Down is one of those songs that comes to mind where he questions the actions of his country and prime minister at the time Margaret Thatcher about her decisions.
Who do you pick for the next 'Scaper of the Week?
Well with all of the talk about 10th foot, Elvis Costello and Margaret Thatcher the only logical choice is Ollie
Comments
Posted November 2nd, 2008 at 10:50 AM by

nyys
Posted November 2nd, 2008 at 01:15 PM by

Jexik
Posted November 2nd, 2008 at 02:05 PM by

ollie
Posted November 2nd, 2008 at 02:38 PM by

Heroscape Elffy
Posted November 2nd, 2008 at 06:08 PM by

Hex_Enduction_Hour
Posted November 2nd, 2008 at 08:38 PM by

Onacara
Posted November 3rd, 2008 at 02:44 PM by

Shades fan
Posted November 3rd, 2008 at 03:25 PM by

Einar's puppy
Posted November 3rd, 2008 at 08:14 PM by

Onacara
Posted November 3rd, 2008 at 08:19 PM by

Shades fan
Posted November 3rd, 2008 at 08:23 PM by

Onacara
Posted November 4th, 2008 at 02:56 AM by

whitestuff
Posted November 4th, 2008 at 08:43 PM by

Onacara
Posted November 5th, 2008 at 11:02 AM by

nyys
Posted November 5th, 2008 at 04:39 PM by

Pickledpie
Recent Blog Entries by Hex_Enduction_Hour