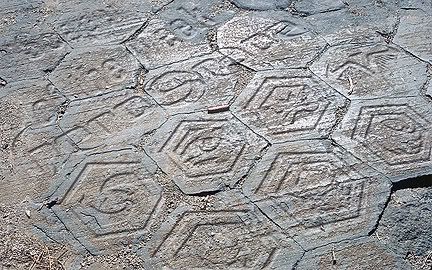 Scaper of the Week 8 - Nyys

Welcome to Week 8 of Scaper of the Week!
Our last candidate,
Pilgrim
chose
Nyys
for this week's spotlight.
Our sixth 'Scaper of the Week is
Nyys
Age:
33
Allegiance and why?
Tough to say, I seem to flip who I like best on a weekly basis, but if I must choose then I'll go with Einar since the Romans (my favorite unit) are aligned with him.
When did you get into HeroScape and why?
My first exposure to the game was thru my nephews in the summer of 2006. They had RotV and I thought the hex terrain was really cool. Wasn't enough to draw me in though... yet. It was Christmas shopping season that same year when I spied the Roman Legionnaires on the shelf at Walmart. I had to have them as that era in history has always been my favorite and from there the seed was planted, no going back.
Favorite aspect of HeroScape and why?
Has to be the tourney sceene. Its a lot of fun putting names to faces and getting to play against many of the great people we have here on the site.
Favorite Hero and why?
Right now it's Zelrig. He's exaclty what the Dragon in my childhood nightmares looked like, and lets face it, once an opponent sees him on the table they just want to run an hide.
Favorite Unique Squad and why?
Have to go with the Airborn Elite. As frustrating as it is when you go a game without the drop working, when it does work and you get initiative on top of that... nasty!
Favorite Common Squad and why?
I think I gave this one away already, the Roman Legionnaires. They come from one of my favorite periods in history to read about and the figures are really freaking cool. I have six sets of them right now, and I dream of a battlefield with 100 of them charging a Marro Swarm in the future.
What do you enjoy most about Heroscapers.com?
I simply can't get enought of this game, but unfortunately I don't get to play all that often (before NHSD this past weekend it hadn't been since July), and this site fills the void.
From the strategy articles to map building to debating rules and the ridiculous, I love it all.
Favorite HeroScape moment
Interestingly enough it wasn't at a tourney, but in a Basic Rules game against my son. Granted the basic rules are very different from the advanced, but what happened is still my all time favorite HS moment to date. I actually posted about it when it happened too, probably will take too much space here I think, so here's a
link
.
One HS unit you would change and why?
I would change the Groks. They're a great unit that I think gets thrown to the side due to high cost and low defense (can't say I disagree). To improve them I would allow them to bond with and receive their enhancement from any Warlord instead of just Marro Warlords.
Another board game you enjoy and why?
Not a board game, but the only other gaming I do is Warhammer 40K. That is until I found Scape. Conicidentaly I've playd exactly one game of 40K since I played in my first Scape tournament back in May of 07... hmmmmm.
Other interests?
The only thing I'm more obsessive about than Scape is the Red Sox. I bleed Fenway Green.
What message do you have for the community?
My message is for anyone new to the site. Everyone here started in the same place, knowing nothing about this game. If you have a question, ask, no matter how silly you think it might be. Nothing becomes easy until you learn how to do it.
I consider myself somewhat polished with the rules now that I've been around for a while, but I'm willing to bet that everyone here has a bone head intepretation of the rules (or two) that had to be corrected (
here's mine
).
Who do you pick for the next 'Scaper of the Week?
This was the easiest one to answer. The one and only
Onacara
.
Comments
Posted October 26th, 2008 at 11:39 AM by

Hex_Enduction_Hour
Posted October 26th, 2008 at 12:12 PM by

stay_golden_PONYBOY
Posted October 26th, 2008 at 12:25 PM by

Shades fan
Posted October 26th, 2008 at 12:39 PM by

Hahnarama
Posted October 26th, 2008 at 01:17 PM by

Hex_Enduction_Hour
Posted October 26th, 2008 at 01:53 PM by

Pilgrim


Updated October 26th, 2008 at 02:06 PM by

Pilgrim
Posted October 26th, 2008 at 03:02 PM by

Onacara
Posted October 26th, 2008 at 03:22 PM by

Heroscape Elffy
Posted October 26th, 2008 at 04:11 PM by

Onacara
Posted October 26th, 2008 at 04:36 PM by

nyys


Updated October 26th, 2008 at 04:45 PM by

nyys
Posted October 26th, 2008 at 04:43 PM by

nyys
Posted October 26th, 2008 at 04:45 PM by

nyys
Posted October 26th, 2008 at 08:13 PM by

Pilgrim
Posted October 27th, 2008 at 01:16 PM by

Sokol
Posted October 28th, 2008 at 09:46 PM by

Einar's puppy
Recent Blog Entries by Hex_Enduction_Hour