HoSS Dual Release
It's a HoSS dual release: two Super Secret Exclusives at once!
Super Secret Exclusive 2: Sands of Tatooine
The first SSE is an Episode IV flashback: the Tusken Snipers. A Tusken Sniper was first seen in Episode IV taking aim at Luke in his landspeeder as he and C-3PO went searching for R2-D2. The Tusken Snipers were then made more famous by their antics at the Boonta Eve Classic Podrace in Episode I, as they fired on passing podracers.
The Tusken Snipers add a dangerous ranged component to a Tusken Army (or any army) that even Jedi will fear.
Tusken Snipers
pdf
Also being released with the Tusken Snipers is a slick new card back which is in the card pdf and is also available in the
X-2 Card Printing App
:
The Tusken Snipers are also a part of the newly completed HoSS Scenario map: Ben Kenobi's Den. Try to get Luke and the droids to safety along with old Ben Kenobi before they are overrun by the Sandpeople.
Ben Kenobi's Den Map & Scenario
Super Secret Exclusive 3: Droid Revolution
The second part of this release consists of the three remaining IG-88 droids, IG-88A, IG-88C and IG-88D. Contrary to the belief of most of the galaxy, IG-88B was not the only assassin droid of his model. There are three other IG-88 units that share the same sentience as their Bounty Hunter brother. Upon being activated and gaining sentience, the four droids killed all the "organics" in the lab where they were built and escaped. After that, all four droids worked together, led by IG-88A, in an attempt to start a galaxy-wide droid rebellion. Each droid has a different role: as the first unit to gain sentience, IG-88A is the leader of the droids, and manages a droid factory while posing as a human. The factory spits out droids carrying a "sleeper program" which IG-88A intends to activate after flooding the galaxy with his droids. IG-88A also assigned roles to each of the other IG-88 droids. IG-88B was assigned the role of a bounty hunter, IG-88C spent some time as a Mercenary Captain, and IG-88D became a dangerous assassin.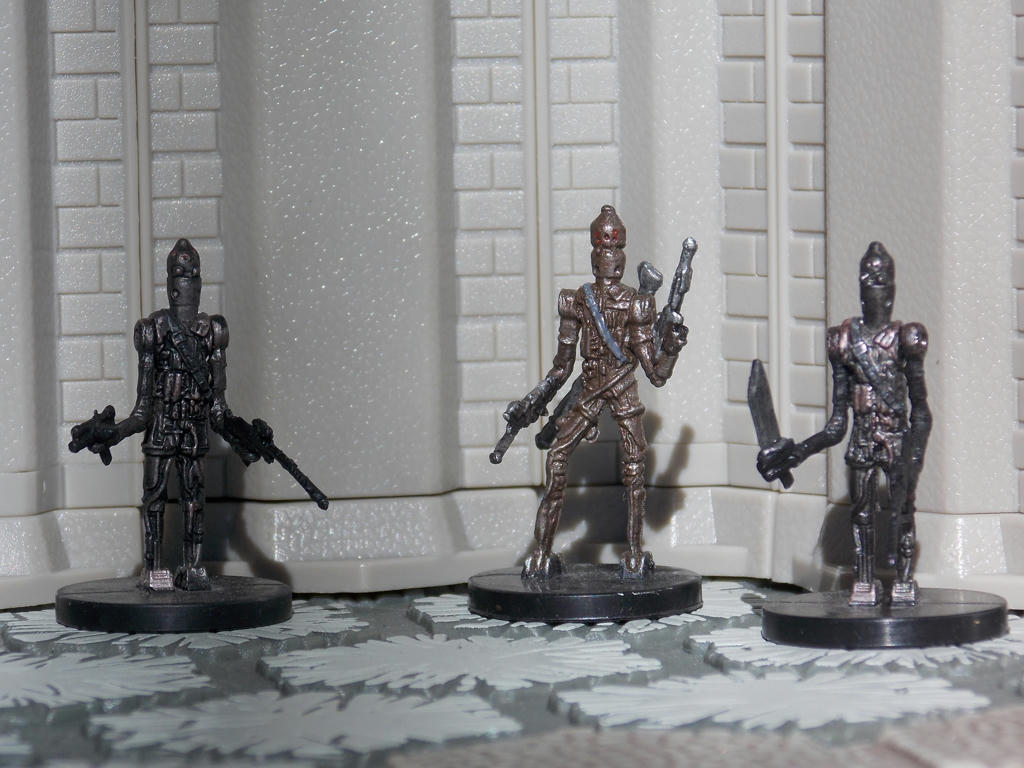 In HoSS, each version of IG-88 brings something unique to the table, either alone or all together in a frightening all-droid army.
IG-88A
pdf
IG-88C
pdf
IG-88D
pdf
Also with the IG Droids is a new card back. It is included in the card pdfs and is available in the
X-2 Card Printing App.
We hope you enjoy this release. Thanks to all our playtesters for your help, and may the Force be with you!
Comments
Posted November 18th, 2015 at 10:52 PM by

TREX
Posted November 18th, 2015 at 11:49 PM by

Yodaking
Posted November 19th, 2015 at 12:18 AM by

quozl
Posted November 19th, 2015 at 12:27 AM by

Johngee
Posted November 19th, 2015 at 01:31 AM by

Arch-vile
Posted November 19th, 2015 at 08:56 AM by

IAmBatman
Posted November 19th, 2015 at 09:14 AM by

quozl
Posted November 19th, 2015 at 09:49 AM by

Porkins
Posted November 19th, 2015 at 10:44 AM by

Tornado
Posted November 19th, 2015 at 02:51 PM by

orgsbane
Posted November 19th, 2015 at 03:56 PM by

Scaperedude
Posted November 20th, 2015 at 08:46 AM by

cobravigon
Posted November 21st, 2015 at 03:59 PM by

capsocrates
Posted November 29th, 2015 at 04:59 PM by

Iskra
Posted December 11th, 2015 at 12:42 AM by

IndustrialOkie
Recent Blog Entries by truth