Kings & Chronicles Game Pics
Posted November 29th, 2011 at 11:36 AM by
jbbnbsmith
I just finished the first draft of all the events cards and have roughed out some of the timeline issues I mentioned in the previous blog. Now I just need some time to try it out! I have no doubt there will be plenty of revisions, revamps, and redesigns, but I'm close to having a completed alpha version. Even though everything is still in the very early stages, the game looks surprising good. Here are some pics:
This shows mmost of the components.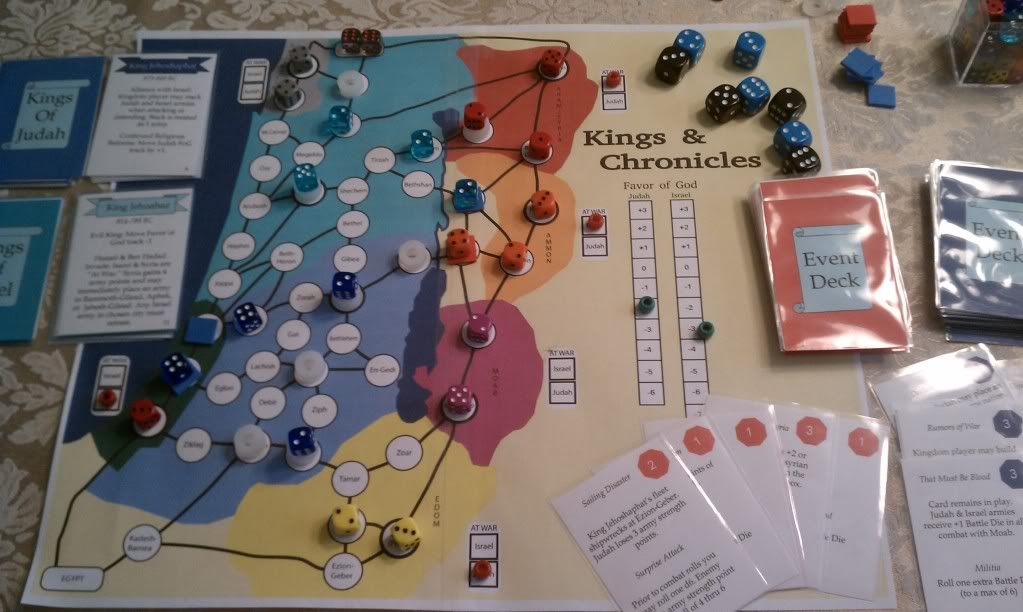 Here's a sample of some event cards. Obviously I haven't spent much time with the graphic design aspect (I hate the light blue on red!) but I just want something I can edit and print quickly. One major design mistake is that I put the point value of the Event Cards on the top right. They need to be top left so you can see them when you fan the cards normally. As they are now, you need to do a backwards fan to see the points.
Here are some of the King Cards. I think these are version 4 or 5 so far: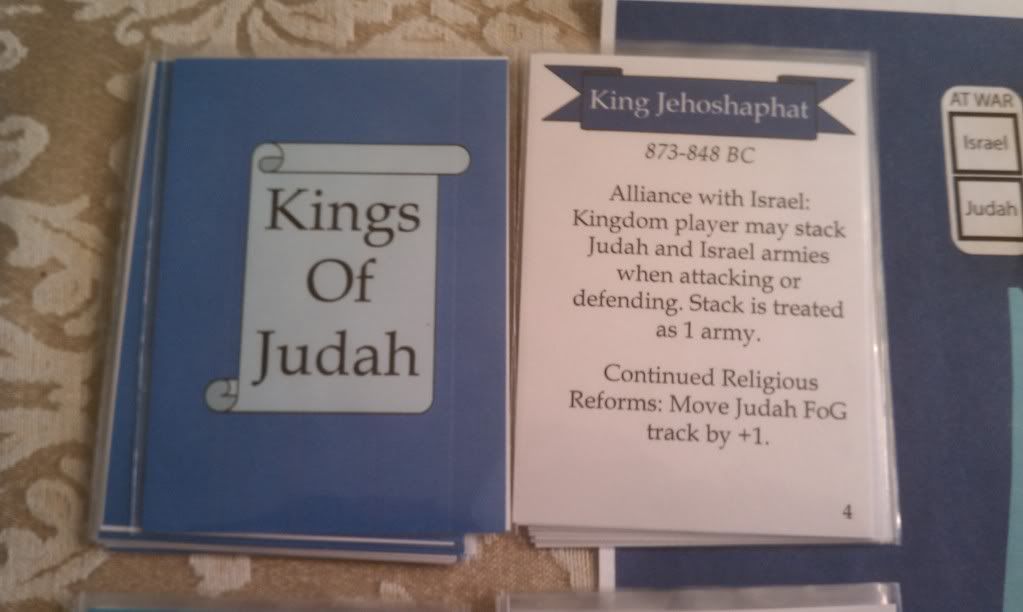 Finally, here is a player's perspective view that shows how the components look on the map. I kind of like the dice as army markers. I am using cup washers for the fortress markers and squares of craft foam for control markers. Not too bad looking for a prototype.
Plenty of hard work ahead, but I'm looking forward to finally "playing" this game with all the pieces. Although I need to do a serious rewrite of the rules just to bring everything up to date.
Thanks for looking.
Comments
Posted November 29th, 2011 at 12:27 PM by

Onacara
Posted November 29th, 2011 at 01:42 PM by

MegaSilver
Posted November 29th, 2011 at 06:48 PM by

chas
Posted November 29th, 2011 at 08:31 PM by

elvenwizard9
Posted November 30th, 2011 at 10:32 AM by

nyys
Posted November 30th, 2011 at 11:55 AM by

dok
Posted November 30th, 2011 at 12:30 PM by

jbbnbsmith


Updated November 30th, 2011 at 12:52 PM by

jbbnbsmith
Posted November 30th, 2011 at 12:44 PM by

Onacara
Posted November 30th, 2011 at 01:01 PM by

jbbnbsmith
Posted December 1st, 2011 at 05:46 PM by

Hive Lord 1233
Posted December 2nd, 2011 at 09:00 AM by

Sylvano the Wasabus
Recent Blog Entries by jbbnbsmith