Is this card overpowered?
I made this custom: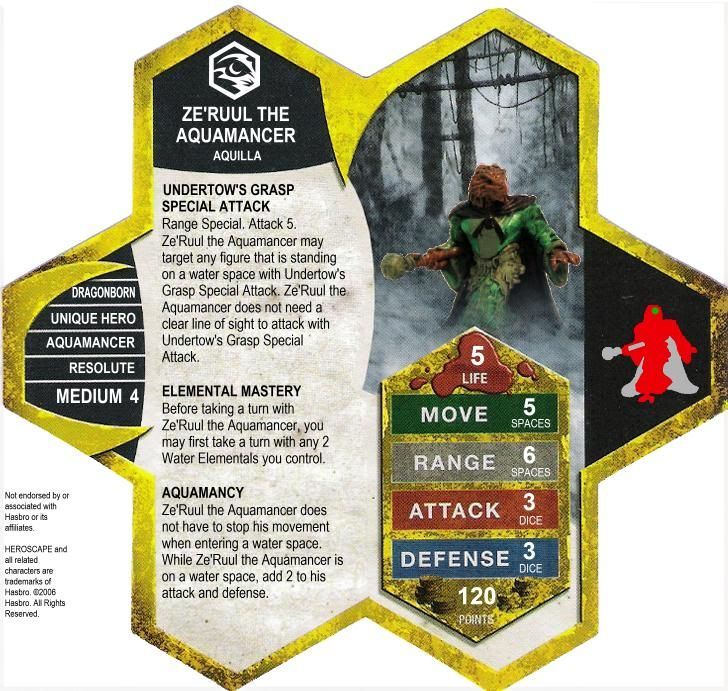 He has a really obvious strategy. SIEGE and I went through the C3G playtesting rules and such and we passed him.
But now, I take a break from the River of Blood campaign, after annihilating room 3.
(I'm using D&D stuff only)
Heroes:
Ze'Ruul
4x Water Elementals
Eltahale
Morgrimm
The WE's sniped the Drow in room 1. In room 2 the killed the ogre warhulk in 2 turns, and Ze'Ruul one-shotted the hydra from the water (he picked up the attack +1 glyph in room 2).
In room 3, the WE's and Ze'Ruul killed Othkurik in 2 turns, Moltenclaw killed Eltahale, then in 1 turn the WE's killed him.
Room 4 baddies are drafting now.
I realize that most of the damage has been done by the WE's but no baddie goes into the water, and I'm taking constant damage from being in it (My d20 rolls are all over the place tonight).
I just can't help but feel that he is overpowered. Kurrok can rez the elementals, but I have
never
done this well before with him.
Any opinions?
EDIT: Water Elementals just wrecked Torin's day from height, Ze'Ruul shoved a venom glyph down Estivara's throat for a 1-turn win.
EDIT #2: I've never lost in this campaign. Either heroes or baddies, I'm undefeated.
Comments
Recent Blog Entries by aquamaniac27