Independence Day Battle Report- Pats vs Brits!
Two 730 point armies clash in a murky swamp.
Army 1:
10th Regiment (x7)
Jonathan Bull (custom)
http://i282.photobucket.com/albums/k...l_original.jpg
General Northgate (custom)
http://i282.photobucket.com/albums/k.../Northgate.jpg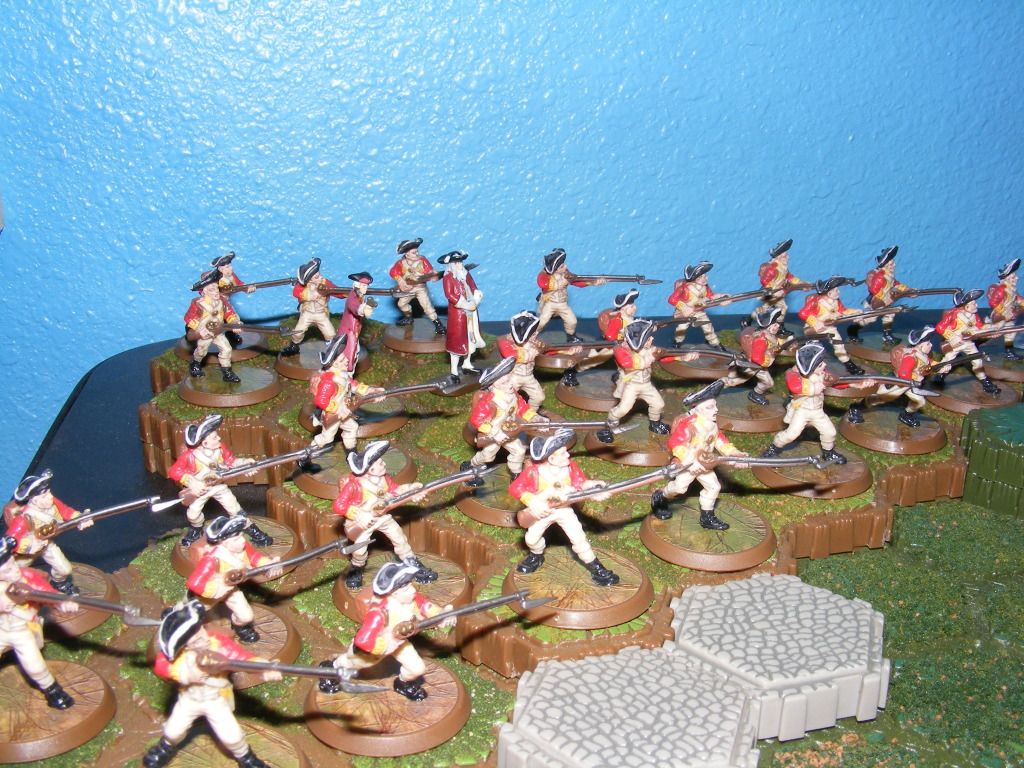 Army 2:
4th Mass (x6)
Samuel Brown
Benjamin Martin (custom)
http://i282.photobucket.com/albums/k...aminMartin.jpg
George Washington (custom)
http://i282.photobucket.com/albums/k...washington.jpg
Round 1
The British win initiative and both armies move to high ground and behind jungle cover.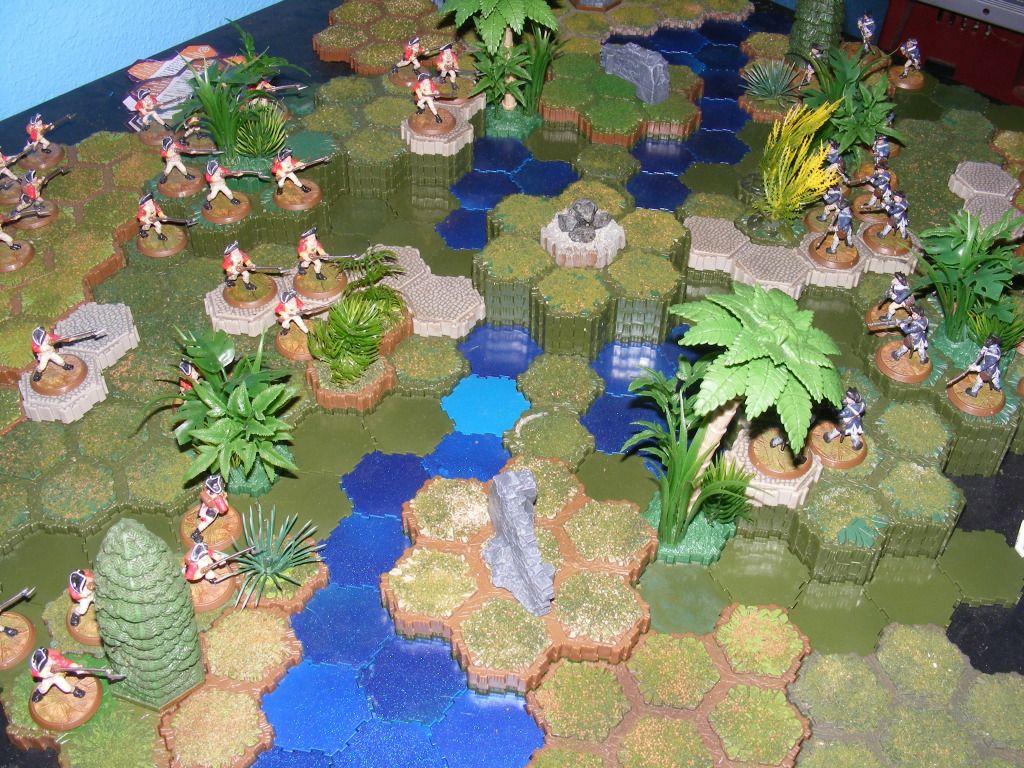 Round 2
The Americans win initiative and the armies exchange fire from range. Valiant defense makes a big difference, as 4th Mass troops on height and under the cover of jungle terrain roll five defense dice. When the smoke clears, the 10th Regiment has suffered 7 losses while the 4th Mass loses only 1 man.
Round 3
The Americans win initiative again and continue to deal out serious damage to the enemy. The British lose 4 10th regiment and Captain Jonathan Bull suffers a wound. The desperate British charge the high ground in the center of the field, hoping to use their melee advantages, but only take down 2 Americans.
Round 4
Another initiative win for the Americans and another bloody clash, with the 10th losing 6 men and the 4th losing 4.
Round 5
The Americans win their fourth straight initiative and are threatening to overrun the British. Jonathan Bull enters the fray, and his double attack is effective against the Americans. He suffers another wound and loses two comrades, but slays 4 Americans.
Round 6
The British finally win initiative and fight had to turn the tide, killing 4 4th Mass. George Washington recklessly rides into the heat of battle. He kills Jonathan Bull before falling to British bullets and bayonets.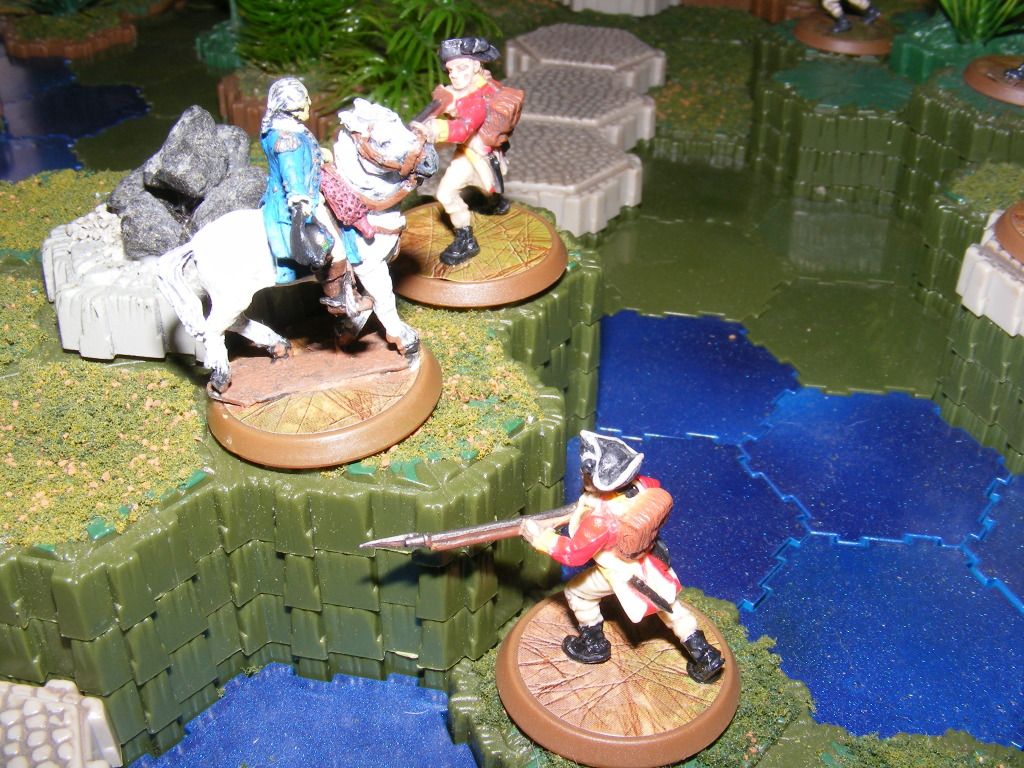 Round 7
Another British initiative and a contingent of 10th Regiment charge the American starting zone, where a few units wait to be activated. 2 4th Mass are lost and Samuel Brown suffers 2 wounds. The 10th suffers 2 casualties as well, and an American sniper puts a wound on General Northgate.
Round 8
The Americans win back the initiative and, despite suffering casualites, manage to clear the attacking British from their start zone, killing 3. The Americans lose 2 4th Mass, Samuel Brown suffers another wound, and Benjamin Martin suffers 3 wounds from a bayonet wound.
Round 9
Yet another initiative win for the Americans allows them to reduce the British numbers to almost nothing. Benjamin Martin falls, but Samuel Brown and the 4th Mass sweep the field. General Northgate goes toe-to-toe with the 4th Mass, but falls in the end.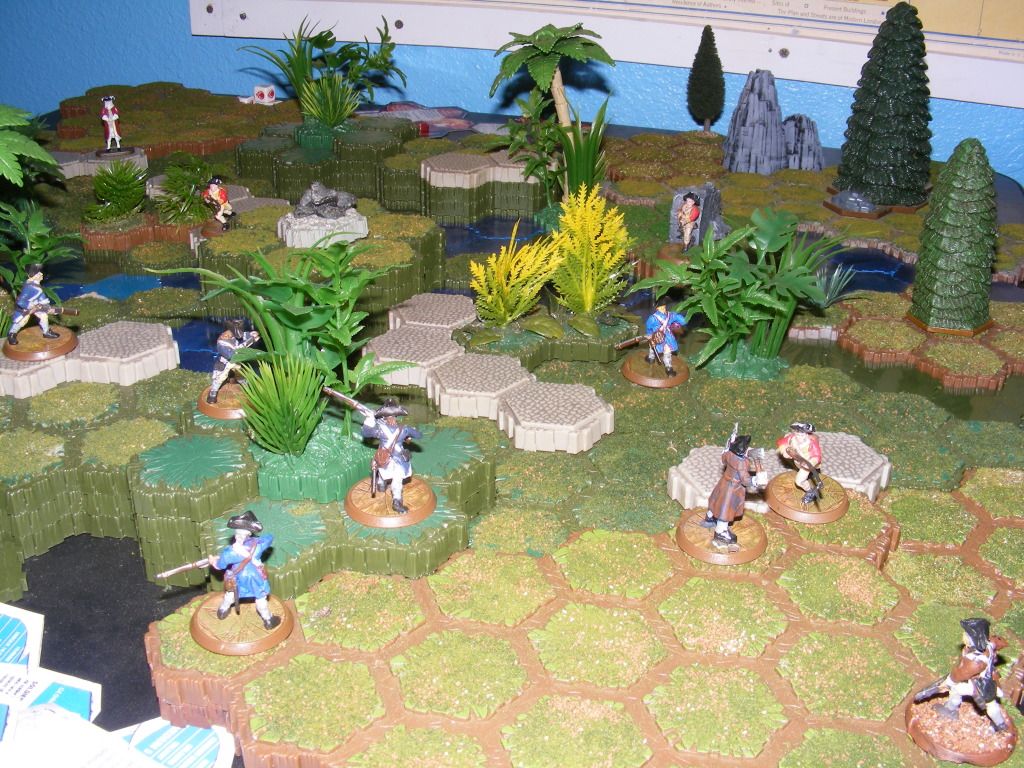 Results-
The Americans end the battle with 3 4th Mass and Samuel Brown with 1 life remaining. I think this battlefield was not a good fit for the 10th Regiment. Aside from the high ground in the middle, there is no way to get to the enemy without wading through water. That minimized their ability to use their melee powers to their advantage. The valiant defense bonus, as mentioned above, was a huge advantage for the Americans, as was their consistent initiative wins (none of which involved Benjamin Martin's D20 roll boost.)
*I'd love to hear thoughts on my customs. I've done other playtesting and I think Jonathan Bull is priced about right (I've made a slight change in the wording of his movement bonding since I first created him). Washington, Martin, and Northgate I'm not sure about. With Northgate I was shooting for a cheaper, weaker Kato. He's my newest custom so he hasn't had any other playtests yet.
Comments
2
Comments
Posted July 5th, 2012 at 02:26 PM by

quozl
Posted July 5th, 2012 at 03:40 PM by

Mossman
Recent Blog Entries by Mossman